SEAT Toledo review (2007-2008)
The Toledo is a hatchback based on an MPV that's trying to be a saloon.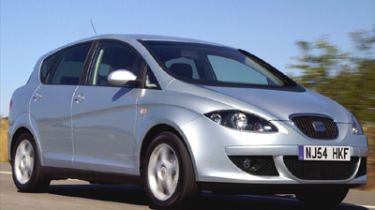 The Toledo is a hatchback based on an MPV that's trying to be a saloon. Confused? You should be. Replacing the old four-door Golf-based Toledo was clearly not high on Seat's priorities, so instead of developing a bespoke model, it's merely grafted a longer bootlid onto the existing Altea mini-MPV, to create 'a saloon with a difference'. The difference being that it's a hatchback! However, get past the marketing hype and you'll discover it's actually a good car. Just like the Altea, there's plenty of room and comfort inside for five, the Touran-derived platform providing an abundance of height, practicality and ease of access. The dash is driver-centred and smart too, and Sport variants have wonderful high-backed seats. Equipment levels are generous with all offering air con and CD player.
Mechanically it's identical to the Altea. The 1.6-litre petrol engine is a surprise, the 2.0-litre reasonably punchy but rev-hungry - most people will naturally choose one of the diesels. The 1.9-litre is the older unit but still goes well, if with more noise than rival units. The 2.0-litre offers tremendous punch but can still be gruff, though in firmed-up Sport trim it's a surprisingly good fun car. Handling is taught too and ride quality composed on all but Sport models, whose stiffened suspension cuts roll but may be a bit too firm for some. Really, Seat is more proud of the big 500-litre boot and option of Bluetooth hands-free telephones, because they're areas that set it apart from the Altea. Otherwise, this is a pointless car, and simply won't sell that well because the Altea is cheaper and identical in every way apart from the bootlid. We can't help but think the Spanish company has missed a trick, and is sure to isolate loyal buyers of the previous model.