SEAT Toledo vs Skoda Rapid
The new SEAT Toledo is the mirror image of its sister car, the Skoda Rapid. But which budget hatch is the better buy?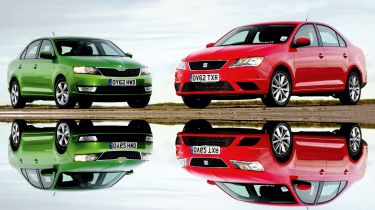 As car makers try to minimise their production costs, there has been a steady rise in the number of models sharing components. The VW Group is a master of the art, as it employs the same platforms and engines for a wide range of cars across its brands. It's even started using the same body for different models, as with the VW up!, Skoda Citigo and SEAT Mii city cars.
The latest model to follow this trend is the SEAT Toledo. It shares its bodyshell with the Skoda Rapid, which was launched late last year, and the cars slot into their own niche between supermini and family hatchback. For that reason, we've compared the new SEAT with its Skoda sister, putting the 85bhp Toledo 1.2 TSI S against the Rapid SE with the same engine. These two are closely matched for running costs, performance and interior space – so which will come out on top?
Verdict
Separating near-identical twins was never going to be easy, but once you crunch the numbers the Skoda manages to pull out a slender lead.
The Toledo is every bit as spacious, solidly put together and easy to drive as the Rapid, but in S trim it feels like a budget car on the inside. Plastic steering wheels and winding windows are normally the reserve of cut-price city cars, and they feel out of place on a large and practical hatchback like this.
It's a similar story with the engine, which is eager and remarkably smooth, but lacks the grunt you need to make decent progress on the motorway. Still, the Toledo is perfect for town use and, if you do less than 10,000 miles a year, it's a lot more affordable and refined than the 1.6-litre TDI diesel option. It's sensible and well rounded transport – just not the most inspiring or desirable choice.
Although the Skoda is a bit more expensive than the SEAT, the added equipment that the SE trim brings makes it feel like a higher-quality product on the inside, and features like alloy wheels and cruise control are all included. It also felt like it had a softer ride and was marginally quicker against the clock. However, what really edges the win for the Rapid are the higher residual values.