Skoda reveals targets for future EVs and connected services
Skoda aiming for power outputs between 140 and 300bhp and a range between 250 to 373 miles for its first electric vehicles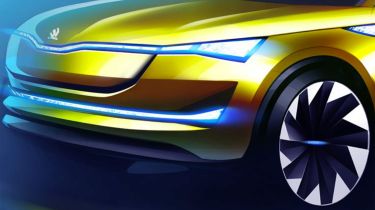 Skoda has revealed a target set of specifications for its future EV models, as well as a first look at its next-generation infotainment system.
Speaking at a conference on Skoda's connected future, Dr Guido Haak, Skoda's head of product management, said that as the internal combustion engine cannot meet EU emissions targets, electrification is inevitable for the brand - and that the Vision E concept hints at a future production car based on the VW Group's new electric car platform.
However, there are challenges in getting customers to buy the cars, and he presented a list of specifications that the brand will work towards for its first EVs.
The list indicates power outputs from 140bhp to 300bhp for Skoda's initial run of EV vehicles, with the most powerful models managing 0-62mph in under six seconds and a top speed of up to 112mph. Both rear and four-wheel drive powertrains were suggested.
A range of 250 to 373 miles (400-600km) in the real world is also a target for the brand, including fast-charging capability. Boot space of 560 litres is another stat presented by Skoda for its EVs, along with connected car services and a competitive price next to cars with traditional engines.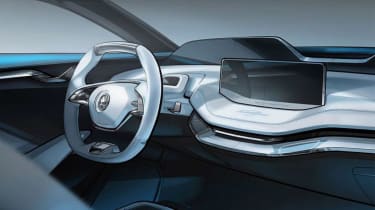 The presentation also included a look at Skoda's next-generation infotainment system, with a large, wide screen that includes data at both ends as well as the main central section. It's shown in a car on the passenger side of the interior, with a second large display behind the steering wheel and a centre console with a tablet-like interface.
New DigiLab project
Skoda is also investing in a future providing not just cars as products but also as a service. A new DigiLab daughter firm has been set up to work towards its future goals, as well as a new innovation hub in Israel.
Skoda says its customers might not want to buy cars in the future, but they still need to get from A to B. That means services like person to person car lending, ride sharing and smart parking are on the table for the brand, as well as other online connected services.
Are you excited about Skoda's future? Let us know below...