Skoda plans electric Citigo replacement based on VW ID.1
New Skoda boss Thomas Schäfer reveals plans for new city car and all-electric hatchback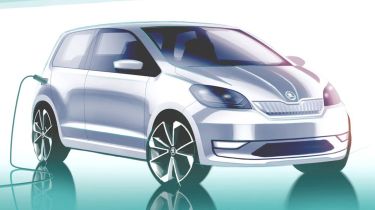 Skoda's Citigo (pictured in electric Citigo-e form) may have just disappeared from the company's line-up, but a new all-electric city car is on the cards that will be a Skoda version of the Volkswagen ID.1.
Volkswagen is said to be developing a smaller version of its MEB platform, called MEB-entry, and the car resulting from it is likely to take the ID.1 name. Now new Skoda chairman Thomas Schäfer has confirmed that there would be a Skoda version.
"We would definitely try and follow suit on that," he said. "If the platform is there we could do something clever on top of it – it would definitely look completely different.
"It's a good side of the family so you don't have to do everything yourself."
The MEB-entry family is expected to use a low-cost version of the MEB architecture, meaning a vehicle length of around four meters – similar in length to today's VW Polo. VW executives have previously spoken of aiming for a starting price of under £20,000, which Skoda would probably look to undercut. Volkswagen is also rumoured to be planning an SUV based on the MEB-entry platform, likely to take the ID.2 name.
However, Schäfer did warn that we would be unlikely to see a new electric city car from Skoda until the middle of the decade, with his company focusing first on the launch of the electric Enyaq crossover next year, followed by a smaller hatchback model.
"One of our biggest focuses at the moment is to go below Enyaq, that will be our first priority, then together with the group we could do something that is a city vehicle."
Schaffer also hinted that an electric saloon, about the same size as an Octavia, could follow at some stage after 2025, while the Octavia name could well continue as part of Skoda's electric plans post 2030. "The Octavia is our key, key model," he said.
Would you be tempted by a small Skoda EV? Let us know in the comments...