Hot Skoda Kodiaq to get twin-turbo power and 240bhp
Skoda is planning a twin-turbo diesel version of the Kodiaq SUV with Sportline and Scout variants also on the cards.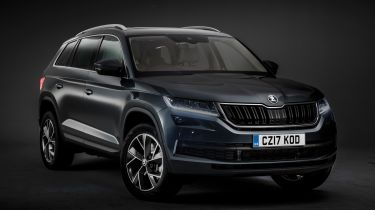 The new Skoda Kodiaq now looks almost certain to get an even more powerful diesel model at the head of its range some time in 2017 - after the firm's head of research and development admitted he has tested such a vehicle recently.
At launch, the most potent Kodiaq on offer is a 187bhp four-cylinder turbodiesel, equipped with four-wheel drive and a DSG gearbox. However, Skoda's board member with responsibility for R&D, Christian Struber, has given Auto Express the first official confirmation that a more powerful variant is already under development.
• Skoda Kodiaq vRS model under discussion
When asked at the Kodiaq's reveal in Berlin if the Kodiaq could take more power, Struber said, "I have been driving such a car only last week, and it was fantastic. From an engineering perspective, of course we want to give the Kodiaq even more performance, and we've been working on this. Now we must wait for the business case."
When pressed on the nature of the engine, Struber admitted, "It was a diesel." It is believed that Skoda is preparing to fit the twin-turbodiesel from the VW Passat into the Kodiaq. That four-cylinder motor produces 237bhp in the Volkswagen, so even a straight swap into the Skoda would give a useful hike in performance over the current range-topper.
Skoda's CEO, Bernhard Maier, confirmed that the company was looking at other trim levels like Sportline and Scout to sit alongside the regular range. "We have been very successful in introducing these to our other models," he said. "Why would we not extend this to include the new Kodiaq?"
When it does arrive, the new motor is likely to be restricted to four-wheel drive and a DSG transmission, as well as the upper trim levels like Sportline and Laurin & Klement. It could also push the price of the Kodiaq north of the £40,000 mark in the UK - a landmark figure for the Skoda brand, and a world away from the car's much-rumoured starting figure of just under £23,000.
Do you like the thought of the quicker Kodiaq? Let us know in the comments...