Smart ForTwo Brabus spied
Faster Smart could have 50 per cent more power than standard ForTwo; on sale in late 2015
Now the regular Smart ForTwo has appeared, tuning firm Brabus can get to work creating the official go-faster hot hatch version. New spy shots show the Brabus will receive a bespoke front grille and bodykit, lower profile tyres and a dual-exit exhaust. Like the previous iterations of Brabus-fettled ForTwos, the 2015 model will use a turbocharged rear-mounted three-cylinder engine.
The Brabus' blower will pump the 898cc motors power from the regular ForTwo turbo's 89bhp to north of 110bhp, and drive the rear wheels. For the first time, a manual gearbox will make it into a hot Smart, and further good news in the transmission department comes in the form of the death of the automated manual five-speeder. Brabus instead has access to the Mercedes A-Class family's seven-speed dual-clutch paddleshift gearbox.
Mercedes' reasoning for having Brabus fettle the dinky Smart rather than its own in-house tuners AMG is two-fold. Firstly, there's the heritage aspect – Brabus Smarts have something of a cult following among fans of the city car, and the diehards want to see the lineage of Brabus-badged tots continue for the new version.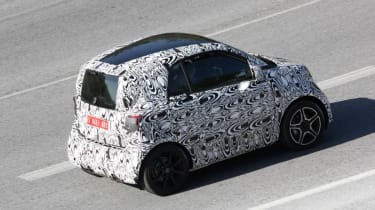 The second, less emotional reason is that AMG is simply too busy to have a whole new model – one it has never breathed on before – added to its portfolio. Currently hard at work signing off the flagship AMG GT sports car, and with the new C63 AMG and ML Coupe AMG waiting in the wings, AMG has plenty on it plate, so to speak. Brabus' role as the go-to-spannermen for uprating Smarts is very much safe.
With the new Smart ForFour sharing its drivetrain components with the two-seater ForTwo, it's possible Brabus will turn its attention to the Smart supermini in due course. Officially, no Renaultsport version of the related Renault Twingo is planned, so a new Smart ForFour Brabus would provide an intriguing rear-drive performance city car to rival the Suzuki Swift Sport and Fiat 500 Abarth.