SsangYong Tivoli Convertible under consideration
Drop-top SsangYong Tivoli could be on the cards, but bosses are undecided on whether it'll come to the UK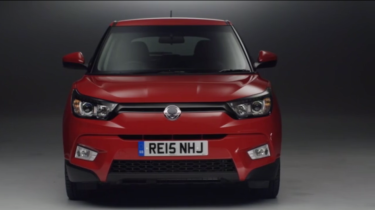 SsangYong could soon be following in the footsteps of Land Rover by taking the roof off one of its most successful SUVs. Auto Express understands a SsangYong Tivoli Convertible along the lines of the Range Rover Evoque Convertible is under consideration, with full-size clay models already being prepared.
There is internal debate at SsangYong as to whether or not the convertible crossover should make it to production, with bosses concerned its arrival would not be taken seriously in a busy and highly competitive SUV market. The recently introduced Tivoli has given the Korean manufacturer a strong foothold in the crossover class, but bosses fear a convertible version could be seen as a joke and undo all of the brand's good work.
If the Tivoli Convertible does make it to production, a folding fabric soft-top would be preferred over a retractable hard-top for more efficient packaging. It's also likely the Tivoli would switch to a three-door layout, with practicality and boot space being sacrificed to accommodate the folding roof.
Extra strengthening would have to be added to compensate for the loss of the roof, which would increase weight and in turn running costs. The 1.6-litre petrol and diesel engines from the current hard-top would be carried over, although SsangYong's parent company Mahindra & Mahindra is currently developing a new downsized three-cylinder turbocharged engine.
Prices haven't been discussed, but if the car made it to the UK, we'd expect SsangYong's focus on value for money to continue. An entry-level cabrio would come in at just over £16,000. We'll have more information on the crazy crossover in the coming months.
Is a SsangYong Tivoli Convertible a good idea? Let us know what you think in the comments section below...