SsangYong Tivoli review
If you want something different from your small crossover, the SsangYong Tivoli is close to matching its mainstream rivals in most areas
If you're in the market for a workhorse SUV on a budget, then you're probably familiar with SsangYong. The Korean maker has been a bit player in the UK car market for many years, with a range of durable and well-equipped SUVs, pickups and MPVs that offer good value, even if they are a little rough around the edges. However, the Tivoli compact crossover attempts to push SsangYong sales to a new level. It slots into the hard-fought small crossover market, where a growing glut of supermini-sized cars with SUV styling are battling for sales.
• Best crossovers and small 4x4s to buy now
Not only is the Tivoli the smallest SsangYong yet, the firm has taken great effort to make it attractive to buyers wanting some style with their purchase. As a result, the Tivoli uses an all-new platform and is powered by a choice of two new 1.6-litre petrol and diesel engines.
There are two body styles: the regular five-door model and the larger Tivoli XLV, which features extra boot space thanks to an extended tail section. The XLV commands a £1,000 premium over the standard Tivoli, although it only comes in top-spec ELX trim. All versions are available with either two or four-wheel drive and a six-speed manual or automatic gearbox.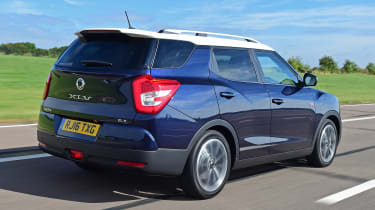 These 4x4 models feature a diff lock for additional traction off-road, but many buyers will choose the front-wheel drive version for its greater fuel economy. SsangYong hopes that this broad scope of engine, drivetrain and body choice, coupled with a unique design, generous spec and five-year unlimited mileage warranty, will attract buyers. And all of this is offered for a starting price of around £13,000.
Key rivals for the Tivoli are the Peugeot 2008, Nissan Juke, Renault Captur and Ford EcoSport, while the Dacia Duster is a cheaper budget alternative that's also available with locking four-wheel drive.
The Tivoli offers good value, but it's a very capable car that stands up to comparison with the class leaders. Build quality is a bit patchy in places, but it handles reasonably well, offers decent cabin space, and looks good. Buyers choosing the Tivoli will primarily be motivated by value for money, but this is one SsangYong that should be surprisingly good to own.
You can put aside your reservations about the SsangYong badge, because the Tivoli is a thoroughly capable small crossover for the money. It's not the most stylish inside or out, and it won't win awards for ride comfort or refinement, but you get a lot of space and kit for little financial outlay.
The latter two points are especially true of the Tivoli XLV, but it's more expensive, and we'd go for the two-wheel-drive version to save some money. The standard Tivoli is decent to drive, while with the diesel engine and is by far the best on-road car SsangYong has built yet.
Engines, performance and drive
The Tivoli handles tidily enough but the ride is a bit unsettled. The diesel is surprisingly punchy but we'd avoid underpowered petrol
Traditionally the driving experience was never a SsangYong strong point, with most of the firm's models engineered for durability and off-road toughness over on-road refinement. Comfort and ride quality, rather than outright performance, tend to be top of the list for crossover buyers, and the Tivoli delivers just enough refinement to be close to the class standard in terms of ride and handling.
There's no fancy adaptive dampers or sport suspension options here: The front wheel-drive Tivoli features McPherson strut suspension up front and a Torsen beam set-up at the rear, while the 4x4 version replaces the rear suspension with a more advanced multi-link system.
At speed on the motorway or on smooth surfaces the car is relatively composed, but once you turn off on to twistier, more undulating roads, the Tivoli loses a little of its poise. Hitting a bump mid-corner will knock the chassis off line, sending a thump through the structure as the wheel rebounds with a noticeable lack of control.
It's not the most agile crossover and it doesn't have much grip, but the light steering at least means it's not taxing to drive. The Tivoli features three steering modes – Comfort, Normal and Sport – but it's best left in Normal, as Sport feels artificial and Comfort is a little too light.
The extended rear bodywork of the XLV doesn't affect the car's handling, so it drives much like the standard Tivoli. Low speed manoeuvrability is good too, with one of the tightest turning circles in the class.
The biggest fly in the Tivoli ointment is the ride. Although the suspension soaks up the biggest bumps well, the car never feels truly settled. The background jiggling as the car moves over the road surface can be intrusive, and swapping from 18-inch to smaller 16-inch wheels does little to rectify it. It settles down with extra weight on board, but it's still way off the comfort you'll get from a Renault Captur or Suzuki Vitara, which is a shame. At least wind and road noise aren't too intrusive.
Engines
The Tivoli gets a simple engine range: a pair of 1.6-litre engines with either petrol or diesel power. There is talk of a three-cylinder 1.2-litre turbo petrol unit in the pipeline, but that's still some way off.
The snappily-named e-XGi 160 1.6-litre petrol unit delivers 128bhp at 6,000rpm. That sounds like a fairly healthy output, but the lack of a turbo means a middling 160Nm of torque at 4,600rpm. That means it lacks the mid-range urge found in rivals equipped with smaller turbocharged petrol units, in particular the 1.2 DIG-T unit in the Nissan Juke and the new Boosterjet petrol in the Suzuki Vitara. In relaxed driving it's quiet enough and only takes on a harsh note in the upper reaches of the rev range, but it feels breathless when extended and throttle response is on the slow side.
The 1.6-litre diesel delivers decent performance, but rev the engine hard and its lack of refinement shows. If you're more careful with the throttle and surf along on the 300Nm wave of torque from 1,500rpm, progress is more relaxing. In-gear acceleration is acceptable, but if you do have to work the box harder, the shift action isn't the sweetest. It can sometimes obstruct you selecting gears – especially when slowing for junctions and going back into first. 
The Tivoli's four-wheel-drive system is selective, so the transmission diverts power to the rear wheels only when it senses a loss of grip. Most of the time the Tivoli sends drive to the front axle alone (although there is a function to lock it into 4x4 mode), so unless you definitely need all-wheel drive, we'd go for the front-driven model, which is £1,250 cheaper.
SsangYong fits a six-speed manual gearbox as standard on the Tivoli. The shift is slightly long-winded but it's positive and with a nice weight to it. A longer sixth gear would be useful to keep the revs down on the motorway. The optional automatic is fairly smooth, but shifts can be ponderous if you demand speed and it blunts both performance and efficiency.
MPG, CO2 and Running Costs
The diesel is frugal in manual form but petrols, automatics and four-wheel-drive versions all come with a significant economy penalty
The Tivoli's engines have been specially developed by SsangYong's parent company Mahindra and are completely new, but key rivals offer better running costs.
The 1.6-litre diesel pumps out CO2 emissions of 113g/km (in 2WD form) while managing a claimed combined economy figure of 65.7mpg. Those numbers look fairly competitive with the class average, but a Suzuki Vitara diesel will better both at 106g/km and 70.6mpg. In practice, the Tivoli is impressively efficient, with over 55mpg easily achievable on a run.
The petrol is a different story, however. The lack of a turbo hinders it here again, as it manages just 44.1mpg combined and emits a substantial 149g/km of CO2. Even the naturally-aspirated Vitara manages 53.3mpg, while the 1.2-litre Puretech 110 petrol in a Peugeot 2008 manages 60mpg combined. It's only forgivable given the Tivoli's low starting price.
The biggest problem, however, is that adding an automatic gearbox really harms economy. Diesel economy drops substantially to 51.4mpg, while it also emits 146g/km. The petrol is at least closer to its manual equivalent, at 39.2mpg and 167g/km, but that puts the Tivoli 1.6-litre diesel 2WD auto into the £205 a year bracket for road tax – Nissan's equivalent Juke diesel CVT slots in at £145.
Four-wheel drive is only available on the diesel (probably for the best given the petrol's already lacklustre efficiency), but the difference is even larger. Manual cars aren't too bad, managing 60.1mpg and 123g/km. But the auto is pretty poor, dropping that figure down to 47.9mpg and 156g/km, going as low as 44.8mpg and 164g/km in the heavier XLV model.
Insurance groups
Despite the Tivoli's bargain-basement intentions, it isn't quite as cheap to insure as you might expect. The petrol starts at group 14, which is 3 groups above the Vitara in SZ5 form, and a full 6 groups above the base Nissan Juke. The diesel is an even higher group 17, but models like the Peugeot 2008 and Honda HR-V suffer from similarly spiky premiums.
Depreciation
Depreciation could be the biggest reason why buyers flock to better-known brands than SsangYong. Traditionally, small-time firms like SsangYong struggle to maintain residual values, but offering a five-year warranty across its range helps here. The Tivoli's newness and low price also gives it an advantage as it stands to hold between 39 and 45 per cent of its value after three years. That's broadly in line with most rivals, and shows how popular small crossovers are nowadays.
Interior, design and technology
Easily the best-looking modern SsangYong with an interior that's functional, spacious and well-equipped
SsangYong has plenty of history when it comes to four-wheel drive, but the majority of its all-wheel-drive models up to now have been more utilitarian off-roaders, pick-ups or budget-focused. While the Tivoli still retains some of these characteristics, it's more of a crossover with some off-road ability than a full-on 4x4, and this is reflected in the car's looks.
Visually, the Tivoli gets a wide, purposeful stance with a flat roofline linked to the body by a thick C-pillar. The A and B pillars are blacked-out to achieve that fashionable 'floating roof' effect. At the back, the curvy rear window and sloping lights give it a modern look, but some will find it generic and slightly over-styled -especially in the larger and longer XLV model.
A range of 16-inch or 18-inch alloy wheels are fitted according to the trim level, and SsangYong offers various personalisation options through its MyTivoli programme, including a contrasting roof (part of the Styling Pack, which costs around £400).
The XLV inherits the regular Tivoli's design, but while the bluff front looks similar, some tweaks to the bumper – including the dark grey insert around the lower light clusters – add presence. The big, square wheelarches give the SsangYong a solid look and strong shoulderline, but the way these creases integrate into the longer body aren't quite as elegant as on its smaller sibling. Both cars share an identical wheelbase, which explains why the larger rear overhang on the XLV makes it look a little awkward from some angles.
The large tail-lights are a simple design, and with the flat tailgate the rear isn't quite as striking as the front. However, apart from a few minor details, the SsangYong's looks have remained fairly faithful to the design concept that was unveiled in 2015.
If anything, the Tivoli interior is an even greater revelation than the outside. The design can stand its ground next to mainstream players with a smart seven-inch central screen on higher spec cars and an adjustable instrument cluster that illuminates in six different colours. There's a premium focus to the interior that's obvious once you climb aboard.
Go for Dandy Blue metallic paint, and you get beige leather as standard – althoughyou can go for grey as a no-cost option instead. The two-tone colour scheme gives the interior a lift, while touchpoints such as the indicators and leather-wrapped steering wheel also feel high quality. However, there are solid plastics elsewhere – the dash is acceptable, but the buttons and knobs on the centre console feel cheap. The layout means it can be difficult to find the one you want at a glance, too.
It's not as stylish inside as a Fiat 500X, and some of the materials aren't up to the standards of the class leaders, but SsangYong is now closer to mainstream rivals than ever before. Our only complaint with the design is details such as the fiddly climate control buttons and a lack of reach adjustment on the wheel.
Three generously-equipped trim levels are offered in the UK: SE starts from under £13,000 and gets 16-inch alloys, cruise control, three-mode steering, Bluetooth and seven airbags. EX adds heated leather trim, 18-inch alloys, dual-zone climate control, a seven-inch touchscreen and a rear-view camera, while ELX tops out with keyless start, front and rear parking sensors, privacy glass, auto lights and wipers and a TomTom satnav system.
Sat-nav, stereo and infotainment
While base models make do with a basic radio, EX trim (from under £15,000) brings the seven-inch touchscreen and a reversing camera. But you'll need to step up to ELX for the full satellite navigation features.
The screen itself is surprisingly user-friendly and slick; in fact we'd go as far as saying it's a better system than the one found in some modern Land Rovers. It responds well to finger inputs, and while it's not the most feature-packed it does enough for most needs. Our main gripe is that there's no DAB radio available, even as an option.
The sat-nav's graphics are a bit dated and not the easiest to follow, but the system works well enough. Bluetooth pairing seems to work perfectly well, too. The sis-speaker multimedia system sounds adequate and there's even an HDMI socket so you can play videos through a handheld device.
Practicality, comfort and boot space
One of the most practical and spacious models in the class, and all for less money than nearly every rival
The compact crossover class is a market sector where practicality plays second-fiddle to style, but the Tivoli is up with the very best cars of its type in terms of cabin and boot space. It's a pleasant surprise, especially given how poor cars like the Nissan Juke are for rear-seat accommodation. The Tivoli might be SsangYong's smallest car, but it still packs more in than you might expect.
The elevated ride height that defines the crossover class helps make entry and exit straightforward. All four doors open wide and once you're in, the seating is firm but comfortable. SsangYong offers optional heated rear seats, which have two settings – off and very hot. You have been warned.
Storage space in the cabin is good, with deep pockets in the doors, bungee-style map pockets on the seat backs and plenty of small cubbies. Cabin space is also amongst the best in this price range, and two adults (three at a push) can get comfortable in the back. It's only really in terms of quality of materials where the Tivoli's cabin gives anything away to rivals.
The only downside for die-hard SsangYong fans is that, by chasing a more civilised feel, its lost its go-anywhere useability and large towing capacity.
Size
The Tivoli is firmly in the small crossover territory, but it still offers a lot of metal for your money. It's 4.2-metres long and around 50mm longer than a Nissan Juke, which pays dividends in terms of passenger and boot space. Its square shape also allows the maximum cabin space for the minimum exterior size, unlike the curvy Nissan.
Leg room, head room & passenger space 
It's not much bigger than many superminis in terms of its footprint, but a six-footer can sit relatively comfortably behind another adult of similar height, making this one of the best cars in the class for buyers intending to regularly use their rear seats. Headroom is also good thanks to the boxy shape while the seats are comfortable, especially the leather items on EX spec and above.
Boot
Further back there's a 423-litre boot that compares favourably with the Nissan Juke (354 litres) and the Peugeot 2008 (350 litres) but less so with the Renault Captur (455 litres). SsangYong says it'll swallow three golf bags. Given the passenger space on offer, that's still very competitive.
With a 547-litre luggage area (or 720 litres without the movable boot floor), the Tivoli XLV (below) offers even more space, but these figures are calculated using all the space to the roofline. The 60:40-split rear seats recline by up to 32.5 degrees, offering more comfort for rear passengers. Legroom in the back is fine, and the high roof means even tall adults won't feel cramped in the XLV.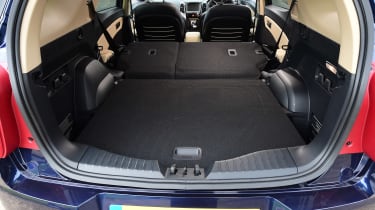 Reliability and Safety
SsangYong is good at building tough workhorses and the Tivoli's five-year warranty is a bonus
SsangYong is currently a small player in the UK, and the Tivoli is an all-new car, while the XLV expands its presence in the UK. While the brand has sold more than 100,000 examples globally, it isn't yet popular enough here to feature in our Driver Power customer satisfaction survey, but that shouldn't worry you. The brand has a reputation for building solid and durable off-roaders, and while the Tivoli is very young, it's not groundbreaking by any means.
The Tivoli hasn't been subject to Euro NCAP testing yet, but it's unlikely to be awarded a five-star rating if it is assessed. That's no slight on SsangYong, as all models get seven airbags and stability control, but Euro NCAP's stricter test requirements demand that autonomous emergency braking is included. It's not available at the moment, and neither is lane departure warning or blind spot monitoring.
If you want extra security, the four-wheel-drive model offers good grip and distributes power smoothly between the wheels. The 4WD Tivoli has a centre diff lock to split power 50:50 between the front and rear axles, which is a unique feature in the small crossover class.
Warranty 
Should anything go wrong, there's the added peace of mind that comes with the brand's five-year, unlimited-mileage warranty, Not only does this guarantee cover all the usual mechanical parts, SsangYong also provides a year or 12,000 miles' protection for the clutch and brake pads, which is a unique offer in the new car market.
Servicing
A petrol Tivoli requires attention every 10,000 miles or 12 months, while the diesel can go to 12,500 miles. It compares well with cars like the Nissan Juke. Servicing costs shouldn't be too pricey, but there's not a huge amount of SsangYong dealers to choose from.
Next Steps
Which Is Best
Cheapest
Name

1.2P EX 5dr

Gearbox type

Manual

Price

£12,920
Most Economical
Name

1.6 D ELX 5dr

Gearbox type

Manual

Price

£17,420
Fastest
Name

1.6 D ELX 5dr

Gearbox type

Manual

Price

£17,420