Used Mazda CX-3 (Mk1, 2015-2020) review
The Mazda CX-3 is a fun, small crossover that is a bit pricey to buy, but cheap to run
Verdict
Supermini-SUVs have become popular, but many lack all-round polish. Not the Mazda CX-3; it feels like a premium small car that's good to drive, handsome and refined. However, its cabin isn't as spacious as those of some rivals, while relatively steep prices from new are reflected in second-hand values. It's best viewed as a high-riding supermini, and it isn't an ideal family car if you have tall teenagers; rear headroom is a little tight, while boot space also lags behind rivals'. If you're looking for a sharp, well-made small SUV that stands out from the crowd, though, this Mazda might just fit the bill.
Which one should I buy?
Best Mazda CX-3 for equipment: 2.0 SkyActiv-G GT Sport Nav+
Best Mazda CX-3 for fuel economy: 1.5 SkyActiv-D SE Nav
Best Mazda CX-3 for driving fun: 2.0 SkyActiv-G GT Sport
Don't feel the need to buy too high up the range, because equipment is generous throughout. Top-spec cars get 18-inch wheels and these produce a crashy ride; the 16-inch rims of cheaper models are harder to kerb and provide a more comfortable ride.
There isn't a weak engine, and both manual and auto boxes are slick, so it's just a question of picking the one you most like. The launch line-up consisted of SE, SE Nav, SE-L, SE-L Nav and Sport Nav, with the SE getting a seven-inch colour touchscreen, 16-inch alloys, cruise control, air-con, DAB radio, Bluetooth and a multifunction wheel.
SE-L adds auto lights and wipers, climate control, heated front seats, rear parking sensors and autonomous emergency braking. The Sport Nav has 18-inch wheels, adaptive headlights, keyless go, head-up display and a reversing camera.
What are the alternatives?
The Nissan Juke was the first supermini-SUV. In original form, the Juke is looking rather dated, but the all-new version is a big improvement. Other rivals include the Peugeot 2008, Renault Captur and Vauxhall Mokka; all were launched before the CX-3, and are worth a look, at less than £6,000.
Got deeper pockets? Then check out the Audi Q2. This class act more than gives the Mazda a run for its money but, because it's newer, you won't get a used Q2 for much less than £15,000. Other recent alternatives include the Hyundai Kona, Kia Stonic and SEAT Arona – all very easy to recommend. 
Volkswagen T-Cross vs Mazda CX-3 vs SEAT Arona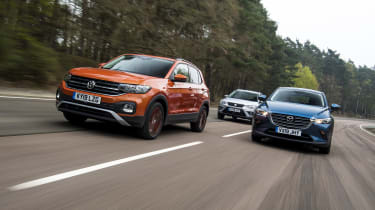 Volkswagen was very late to the small SUV party, but the T-Cross proved that being the first to market doesn't necessarily guarantee success. We placed the T-Cross ahead of the Mazda CX-3 and SEAT Arona, praising the Volkswagen's space, performance and fuel economy. Read the full test here...
Mazda CX-3 vs Hyundai Kona vs Peugeot 2008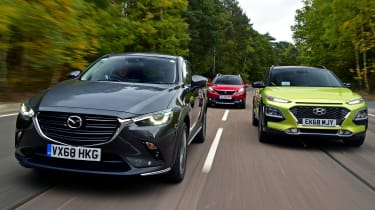 A 2018 update for the Mazda CX-3 and new diesel engines for the Hyundai Kona and Peugeot 2008 presented us with an opportunity for a small SUV triple test. The Mazda's ride comfort, interior and driving experience weren't enough to stop the 2008 from grabbing top spot. Read the full test here...
Ford EcoSport vs Volkswagen T-Roc vs Mazda CX-3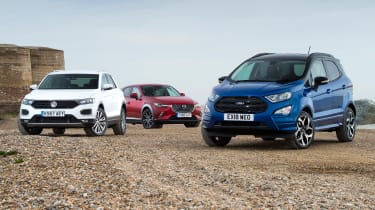 Four years after the launch of the EcoSport, Ford gave its much-maligned small SUV another update in the hope of stealing sales from the class leaders. The changes weren't enough, which left the Volkswagen and Mazda to battle it out for class honours. It was a narrow victory for the classy T-Roc. Read the full test here...
Hyundai Kona vs Citroen C3 Aircross vs Mazda CX-3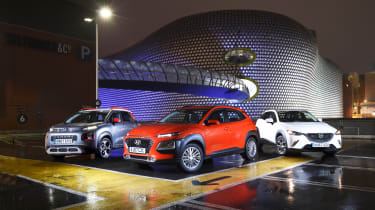 If you hadn't already noticed, there's no shortage of small SUVs to choose from on the used car market. The Mazda CX-3 was by far and away the most entertaining of these supermini-based SUVs, but neither the Hyundai or Mazda could match the Citroen's overall quality. Read the full test here...