Hyundai Kona vs Citroen C3 Aircross vs Mazda CX-3
The Hyundai Kona offers SUV appeal in a supermini-sized package. We test it against the Citroen C3 Aircross and Mazda CX-3
With SUV sales booming and superminis continuing to be best-sellers in Britain, it's no wonder car makers are bringing the two together.
Hyundai is the latest brand to join the fray, with its new Kona, and thanks to its outlandish looks, this car is bound to draw attention. Yet the real battle it'll need to win will be fought on equipment, price, the practicality of its interior, and comfort.
That's because the Kona is taking on our class leader, the Citroen C3 Aircross. Like so many Citroens, it's quirky, but it doesn't compromise, and that has really impressed us since it arrived late last year.
Then there's the Mazda CX-3. Despite being the oldest car here, it makes a strong case with its sharp styling and handling.
This is a tough class, so if you want a small SUV read on to find out which of these makes the most compelling case.
Hyundai Kona
| | |
| --- | --- |
| Model: | Hyundai Kona 1.0 T-GDi Premium |
| Price: | £18,795 |
| Engine: | 1.0-litre 3cyl petrol, 118bhp |
| 0-60mph: | 10.1 seconds |
| Test economy: | 42.0mpg/9.2mpl |
| CO2: | 125g/km |
| Annual road tax: | £140 |
The Hyundai Kona we're testing uses a downsized 1.0-litre turbo petrol engine with 118bhp, which is designed for economy, as well as good performance around town. It costs from £18,795 in Premium trim (the car in our pictures is an SE), which makes it the most expensive model in this test, although only by £100 over the Mazda CX-3.
Despite its new platform, the Hyundai can't match either rival for dynamic ability. The Kona's steering is well weighted and it resists body roll while cornering, but it's best described as safe to drive rather than fun. The Mazda is genuinely great behind the wheel and much more engaging.
Keen drivers won't be enticed by the Kona then, but that could be easily forgiven if it was as comfortable as the C3 Aircross, which trades engagement in return for a more supple ride. That's not the case with the Kona; it deals with most roads acceptably, smoothing out smaller ripples, but potholes and large bumps crash into the cabin.
The 1.0-litre engine is a good unit, with a maximum 172Nm of torque spread wide from 1,500 to 4,000rpm, which means it's easy to get the best out of it, especially around town.
It's reasonably refined, with a pleasant three-cylinder engine note when you build up the revs. Sadly, it's neither as characterful as the Citroen's 1.2-litre three-cylinder, nor as responsive and fun to rev as the Mazda's 2.0-litre petrol engine. It has a sweeter manual gearshift than the Citroen, although both are way behind the Mazda's shift.
The Kona performed well in our tests, accelerating from 0-60mph in 10.1 seconds despite heavy rain. That was quicker than the more powerful C3, which struggled for traction off the line. The Hyundai was also a match for the naturally-aspirated Mazda in-gear, despite having half its engine capacity, thanks to that wide spread of turbocharged torque.
Testers' notes: "The Kona is one of only a few small SUVs to be offered with four-wheel drive. Other options in this class include the Suzuki Vitara and SsangYong Tivoli, but two-wheel drive is adequate and cheaper."
Citroen C3 Aircross
| | |
| --- | --- |
| Model: | Citroen C3 Aircross PureTech 130 Flair |
| Price: | £18,490 |
| Engine: | 1.2-litre 3cyl petrol, 128bhp |
| 0-60mph: | 10.6 seconds |
| Test economy: | 40.3mpg/8.9mpl |
| CO2: | 119g/km |
| Annual road tax: | £140 |
Citroen's C3 Aircross is partly a successor to the old C3 Picasso model. But it's also partly a replacement for the C4 Cactus, which has recently been updated and repositioned as more of conventional hatchback than an SUV. The C3 Aircross definitely occupies the small SUV space, and our PureTech 130 model costs from £18,490 in Flair trim.
As with many of Citroen's cars, the C3 Aircross delivers comfort from its driving experience over and above sharp handling. That's no bad thing, because since the car has no pretence of sporty handling, you can settle down into the enjoyably soft suspension. There's room for improvement, because the model still lacks control over some bumps, but it's by far the most comfortable car of our test trio.
It's at the other end of the scale to the sporty Mazda CX-3, which will be more of a hit with keen drivers, but many motorists will love the fact that the Citroen is at its best when driving gently.
It's the most powerful car here, with 128bhp, but it's the 230Nm of torque available from just 1,750rpm that gives the 1.2-litre three-cylinder petrol turbo unit its punchy character.
Due to a lack of traction in the slippery conditions, the C3 Aircross was the slowest car from 0-60mph, taking 10.6 seconds. But in-gear the extra torque worked in its favour: it went from 30-50mph in third in just 3.8 seconds. This was a second quicker than the CX-3 and eight tenths faster than the Kona.
Similarly, the French model covered 50-70mph in fifth gear in 7.5 seconds, which was well ahead of the Hyundai's 10.0 seconds and the Mazda's 9.0 seconds. This torque is also useful because it means you don't have to work the six-speed manual gearbox as hard. That's a bonus because it's by far the least enjoyable transmission of our three contenders. It's vague and feels oddly heavy, and is particularly unpleasant after hopping out of the precise Mazda.
Testers' notes: "You have to pay extra for a two-tone roof on the Kona, but it's free if you go for a C3 Aircross in top-spec Flair trim. You can have the roof in the same colour as the body at no cost if you prefer."
Mazda CX-3
| | |
| --- | --- |
| Model: | Mazda CX-3 2.0 SkyActiv-G SE Nav |
| Price: | £18,695 |
| Engine: | 2.0-litre 4cyl petrol, 118bhp |
| 0-60mph: | 9.4 seconds |
| Test economy: | 34.0mpg/7.5mpl |
| CO2: | 137g/km |
| Annual road tax: | £140 |
We're testing the 118bhp 2.0-litre petrol version of Mazda's CX-3 crossover, which costs £18,695 in entry-level SE Nav trim (although our images show an SE-L Nav) with a six-speed manual box. It's the only car here with four-cylinder engine and it's twice the capacity of the Kona's, despite having the same power output. Is it still a good choice?
While there's no turbo to boost the CX-3's engine, the extra capacity helps it to produce more torque than the Kona's 1.0-litre turbo unit. There's a maximum of 204Nm, but because it's delivered further up the rev range at 2,800rpm you need to work the engine harder to make progress.
However, along with the low kerbweight, this means the CX-3 is quicker than its rivals in a direct sprint: it was the fastest car from 0-60mph, taking 9.4 seconds, and from 30-70mph through the gears, clocking 9.0 seconds. The Kona did the latter test in 9.5 seconds, while the Citroen managed 9.8 seconds.
Rev the naturally-aspirated Mazda motor hard and you'll get the best out of it. The engine is very responsive and fun to use, especially thanks to the slick and precise six-speed manual gearbox.
However, the lack of low-down torque was more apparent in our in-gear tests. It was the slowest from 30-50mph in third and matched the Kona at 6.6 seconds in the same test in fourth.
The Mazda split its rivals from 50-70mph in fifth and sixth gears, taking 9.0 and 13.0 seconds respectively, behind the torquier Citroen.
With well-weighted steering, the CX-3 inspires confidence in corners, and there's more grip than you might expect as well. There's less body roll than in either rival, and the Mazda feels composed even when cornering aggressively.
It's certainly the enthusiast's choice here, but it doesn't exclude itself from a wider range of buyers, because the chassis remains comfortable over most road surfaces. It doesn't thump into potholes like the Kona does, so while it's not as soft as the Citroen, the Mazda still beats its Korean rival for ride comfort.
Testers' notes: "The Mazda CX-3 looks great in any colour, but the £670 Soul Red Metallic option is superb. Our car's Arctic White finish is a no-cost option; the CX-3 isn't quite as visually customisable as its rivals, either."
Verdict
First place: Citroen C3 Aircross
The Citroen brings together all the elements that are really important for a small SUV like this. It's distinctive, comfortable and incredibly practical, which means it'll fit in with buyers' everyday lives best. It's not hugely fun to drive, but it delivers good in-gear performance and the long list of standard kit means the C3 Aircross is the best-value car in this test.
Second place: Mazda CX-3
It's by far the most entertaining car to drive, but that's not the only reason the CX-3 scores well. The car also rides smoothly, offers enough usability and is also tempting on Mazda's attractive PCP deals. While it's not practical or efficient enough to win this test, the CX-3 is still reasonably spacious and suffers the least from depreciation, so running costs should be acceptable.
Third place: Hyundai Kona
Compared with its rivals, the Kona is ultimately lacking a clear direction. It's not as comfy as the Citroen, but not as good to drive as the CX-3, and rides more harshly than either. It has the best infotainment system here and gets plenty of standard kit, but its drab interior and driving experience count against it, while the smallest boot seals its fate in third place.
Other options for similar money...
New: SEAT Arona 1.0 TSI FR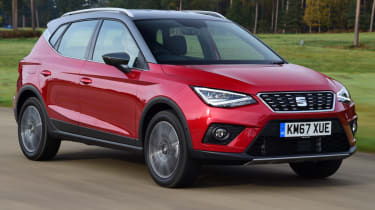 Price: £19,895Engine: 1.0-litre 3cyl, 113bhp
The SEAT Arona FR is a little pricier than its three rivals here, but it's still a fine choice. The sporty looks and top-notch infotainment help it stand out, and it's also good to drive, practical and economical. Look out for the decent PCP deals.
Used: MINI Countryman Cooper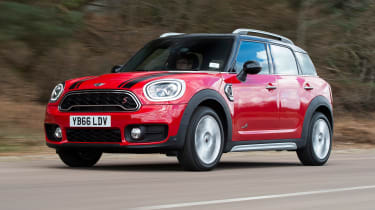 Price: From £18,500Engine: 1.5 3cyl, 134bhp
If you're prepared to buy used, you could get into a nearly new MINI Countryman for around the same price as the cars in this test. The MINI rivals the CX-3 for driving enjoyment, boasts good residual values and a chic, upmarket image.
Figures
| | | | |
| --- | --- | --- | --- |
| | Citroen C3 Aircross PureTech 130 Flair | Mazda CX-3 2.0 SkyActiv-G SE Nav | Hyundai Kona 1.0 T-GDi Premium |
| On the road price/total as tested | £18,490/£21,320 | £18,695/£18,695 | £18,795/£18,795 |
| Residual value (after 3yrs/36,000) | £7,821/42.3% | £8,000/42.8% | £7,593/40.4% |
| Depreciation | £10,669 | £10,695 | £11,202 |
| Annual tax liability std/higher rate | £804/£1,608 | £959/£1,918 | £892/£1,784 |
| Annual fuel cost (12k/20k miles) | £1,651/£2,752 | £1,957/£3,262 | £1,586/£2,643 |
| Insurance group/quote/road tax cost | 16/£423/£140 | 17/£464/£140 | 10/£397/£140 |
| Cost of servicing | £400 (3yrs) | £499 (3yrs) | £499 (3yrs) |
| | | | |
| Length/wheelbase | 4,154/2,604mm | 4,275/2,570mm | 4,165/2,600mm |
| Height/width | 1,637/1,765mm | 1,535/1,765mm | 1,565/1,800mm |
| Engine | 3cyl in-line/1,199cc | 4cyl in-line/1,998cc | 3cyl in-line/998cc |
| Peak power/revs | 128/5,500 bhp/rpm | 118/6,000 bhp/rpm | 118/6,000 bhp/rpm |
| Peak torque/revs | 230/1,750 Nm/rpm | 204/2,800 Nm/rpm | 172/1,500 Nm/rpm |
| Transmission | 6-spd man/fwd | 6-spd man/fwd | 6-spd man/fwd |
| Fuel tank capacity/spare wheel | 45 litres/space saver | 48 litres/repair kit | 50 litres/space saver |
| Boot capacity (seats up/down) | 410-520/1,289 litres | 350/1,260 litres | 334/1,116 litres |
| Kerbweight/payload/towing weight | 1,188/607/840kg | 1,155/535/1,200kg | 1,233/542/1,200kg |
| Turning circle | 10.8 metres | 11.4 metres | 10.6 metres |
| Basic warranty (miles)/recovery | 3yrs (60,000)/1yr | 3yrs (60,000)/3yrs | 5yrs (unltd)/5yrs |
| Driver Power manufacturer/dealer pos. | 26th/14th | 5th/23rd | 10th/10th |
| NCAP: Adult/child/ped./assist/stars | 85/82/64/60/5 (2017) | 85/79/84/64/4 (2015) | 87/85/62/60/5 (2017) |
| | | | |
| 0-60/30-70mph | 10.6/9.8 secs | 9.4/9.0 secs | 10.1/9.5 secs |
| 30-50mph in 3rd/4th | 3.8/5.2 secs | 4.8/6.6 secs | 4.6/6.6 secs |
| 50-70mph in 5th/6th | 7.5/9.7 secs | 9.0/13.0 secs | 10.0/13.5 secs |
| Top speed/rpm at 70mph | 124mph/2,600rpm | 119mph/2,500rpm | 112mph/2,500rpm |
| Braking 70-0/60-0/30-0mph | 51.6/40.6/10.7m | 53.5/40.9/9.4m | 63.7/39.7/10.5m |
| Noise outside/idle/30/70mph | 63/43/59/68dB | 58/42/58/69dB | 60/42/57/67dB |
| Auto Express econ (mpg/mpl)/range | 40.3/8.9/399 miles | 34.0/7.5/359 miles | 42.0/9.2/462 miles |
| Govt urban/extra-urban/combined | 44.8/60.1/53.3mpg | 38.2/57.6/47.9mpg | 44.8/56.5/52.3mpg |
| Govt urban/extra-urban/combined | 9.9/13.2/11.7mpl | 8.4/12.7/10.5mpl | 9.9/12.4/11.5mpl |
| Actual/claimed CO2/tax bracket | 162/119g/km/22% | 192/137g/km/26% | 155/125g/km/24% |
| | | | |
| Airbags/Isofix/park sensors/camera | Six/yes/yes/£600* | Six/yes/no/no | Six/yes/yes/yes |
| Auto box/stability/cruise control/AEB | No/yes/yes/yes | No/yes/yes/no | No/yes/yes/£235* |
| Climate control/leather/heated seats | Yes/no/yes | Air-con/no/no | Yes/no/no |
| Metallic paint/LED lights/keyless go | £520/no/yes | £550/no/yes | £565/no/yes |
| Sat-nav/USB/DAB radio/Bluetooth | Yes/yes/yes/yes | Yes/yes/yes/yes | Yes/yes/yes/yes |
| Wireless charging/CarPlay/Android Auto | £650*/yes/yes | No/no/no | Yes/yes/yes |