Subaru electric car will be ready for launch by 2021
With hybrid models in the pipeline for 2018, Subaru has become the latest car maker to pursue electric power. Its first EV is due in 2021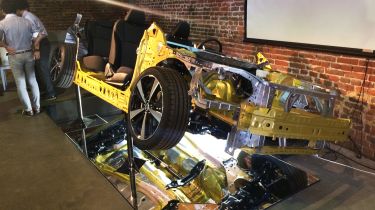 Subaru will launch an all-electric vehicle at the beginning of the next decade, after the firm takes its first step towards electrification with the release of new hybrid models in 2018.
A Subaru EV is planned for 2021, which will be based on the firm's all-new Global Platform architecture.
• The best electric cars on sale
In order to save on development costs it won't be a bespoke EV model and will be based on one of Subaru's core models. The firm plans to release a new car every year until 2020, with a firm focus on the growing SUV market.
According to engineers the project is still very much in its infancy, and powertrain information and specifications are still unknown. Presently, engineers are tasking themselves with how best to package battery cells from a safety point of view.
It could be all-wheel-drive, however, as Subaru intends to keep its distinct identity in tact as the global marketplace begins to drift towards electrification.
• 2017 Subaru XV crossover arrives in Geneva
Hybrid versions of existing Subaru models will appear towards the end of 2018, mating battery technology to the firm's trademark boxer engines. New generation engines are on the agenda too, with a new downsized turbocharged engine set to arrive in Subarus from 2019 onwards.
The firm has also unveiled future plans for its EyeSight driver assist technology, with semi-autonomous driving modes targeted from 2020. Later this year EyeSight will get a traffic jam assist function capable of keeping the car in lane on motorways, while a semi-autonomous motorway driving mode will follow, with lane changing capabilities. To do this, the current EyeSight technology - which uses stereo camera and two radars - will be upgraded with multiple new radars and other sensors.
Are you excited by the idea of Subaru joining the EV market? Let us know below!