New Volvo XC100 flagship planned for 2022 debut
Volvo plan to crown SUV line-up with new 'XC100' model using new platform rumoured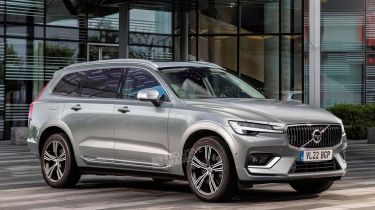 Volvo is tipped to launch a new flagship SUV within the next couple of years, acting as a larger replacement for the XC90 and providing the company with a direct rival for the BMW X7 and the Mercedes GLS.
Volvo is currently developing a new version of its large-car platform, SPA2. The brand's current SPA architecture, which is found under Volvo's "60" and "90" models, is unable to scale much larger than the current Volvo XC90. As such, if the firm wants to go after the flagship SUVs offered by Mercedes and BMW, the new XC100 will need to use this newly developed platform. 
Auto Express understands that SPA2 will be engineered to support vehicles up to 5.5 metres long. And crucially, the third Polestar model – a huge pure-electric SUV – will use the same underpinnings. 
The new vehicle has already been named internally with the project code V616. The "6" marks the prototype out as the largest model in Volvo's range; the "1" means it's the first generation of the vehicle and the final "6" is shorthand for its SUV body style.
It's said to be around 30cm longer than the current XC90 and slightly longer than even the BMW X7, at 5.2 metres. Volvo will also scale-up the SUV's wheelbase and rear overhang, which will improve both the amount of legroom in the second seating row, the amount of overall space in the third seating row and the car's boot capacity.
The XC100 is likely to feature a mixture of higher-end powertrains from the manufacturer's line-up, with entry-level editions using a high-powered petrol-based mild-hybrid set-up, and alternatives available with both plug-in hybrid and pure-electric configurations.
The new flagship SUV has been made possible not only by buyer trends in key markets, including the United States and China, but also by Volvo's improved brand strength. This will support a new high point in the firm's pricing strategy, because when equipped with more expensive powertrains, the XC100 could well cost more than £80,000.
Elsewhere, Volvo's CEO Håkan Samuelsson also confirmed that the next 40-series model will make its debut in 2021. He said: "Next year there will be another 40-series Volvo, which will also be electric. So we will have electric cars to support our ambition to sell half of our cars as all-electric five years from now."
What do you make of the new Volvo XC100? Let us know in the comments section below…