Suzuki e-Survivor SUV concept uncovered at Tokyo
Suzuki's e-Survivor SUV concept celebrates the brand's 100th birthday at the Tokyo Motor Show, utilising electric four-wheel-drive
Suzuki has revealed its strking e-Survivor SUV concept at this year's Tokyo Motor Show.
It's a compact electric SUV that takes inspiration from Suzuki's well-known mini-SUVs the Jimny and Vitara. The e-Survivor features permanent electric four-wheel-drive and a lightweight compact body; the T-section removable roof also bares resemblance to the mid-90's Suzuki X-90 compact SUV.
The e-Survivor has been designed to give us a glimpse of the future direction of Suzuki's compact SUV models - a market Suzuki has always been strong in.
• New 2019 Suzuki Jimny SUV: first leaked images and spy shots
Another notable addition to Suzuki's Tokyo lineup is the XBEE (pronounced cross-bee) compact crossover wagon. Despite its compact proportions, Suzuki says it has the functionality of an SUV.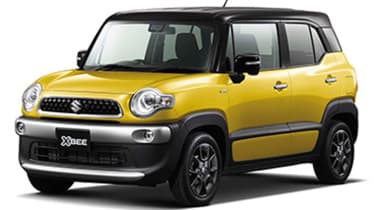 Along with the standard XBEE, Suzuki has also created two additional variants called the XBEE Outdoor Adventure and Street Adventure. Changes are purely cosmetic and design to broaden the appeal of the XBEE.
What do you think of Suzuki's Tokyo Motor Show line-up? Let us know below...