'Tesla needs to cement its place as THE electric car maker'
Tesla needs to prove that it is the definitive electric car maker and stay ahead of its mainstream rivals, says John McIlroy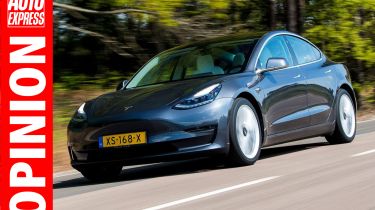 After what has seemed like an eternity, this week we're finally able to deliver a first UK verdict on the eagerly anticipated Tesla Model 3. You can read editor-in-chief Steve Fowler's review, but suffice it to say that all of the promises that persuaded tens of thousands to add their name to the waiting list for the 'baby Tesla' is just as relevant on British roads as it is in the United States. That's quite an achievement.
And yet, this week it also emerged that Tesla is seeking fresh funding as it tries to maintain momentum, having posted a loss during the first quarter of 2019 of $702million (£540m), and seen a reduction in car deliveries of almost a third compared with the final three months of 2018. For all the Model 3's brilliance, Tesla remains a brand with amazing promise, instead of one that is truly delivering upon it.
Nor is the company's battle going to get any easier over the next 18 months, as the likes of the VW Group and Mercedes launch their own EV sub-brands, based on bespoke platforms and made in plants blessed with billions of euros of investment.
Tesla boss Elon Musk has said that he welcomes new arrivals onto the EV scene – but he may be less conciliatory when they're eating into his sales potential or installing their own charging networks on sites where he'd like to place Superchargers.
Tesla has to try to cement its place as the electric car manufacturer – in the same way that Apple made people want 'the iPhone' for many years, even after countless rivals had brought out shiny black bricks of their own. 
Somehow, anyhow, Musk and his team need to ensure that even when Audi, Mercedes and BMW have harnessed their manufacturing nous and buying power to really start making electric vehicles in proper numbers, Teslas don't become 'just another EV'. And that could be their biggest challenge yet. 
If you enjoyed this article then click here to read our previous opinion columns...