Tesla contactless test drives could come to UK when restrictions ease
Tesla is using contactless technology in China as buyers return to showrooms and could be used in UK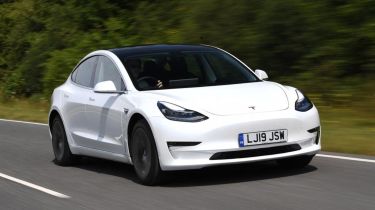 Tesla is gearing up for the return of car buyers to its showrooms around the world by beginning to offer contactless test drives.
The programme is already being offered in China where Coronavirus restrictions have started to ease. And when restrictions eventually lift allowing safe travel and visits to retailers in the UK, the company could be first to offer contactless test drives to potential customers here, with the opportunity to test drive Model S, Model X and Model 3 cars with safe cleansing and social distancing still in mind.
Customers in China are able to pre-book test drives online or over the phone and complete the necessary paperwork via email, allowing Tesla's retailers to have a fully sanitised car available with the key locked safely inside.
When the customers arrive to take their Tesla test drives, retail staff unlock the car remotely via the Tesla app, while a tutorial is available on the car's large touchscreen to explain the functions of the car.
When the car is returned, the retailer can again use the Tesla app to lock the car, before fully sanitising it again for the next test drive. And should the customer wish to proceed with the purchase, it can all be done online as it is in the UK now. Customers would then have seven days or 1,000 miles to return the car if they're not happy. 
Tesla says that contactless deliveries of cars are also possible.
The contactless test drive process can already be seen thanks to a video posted online showing a Chinese blogger making a reservation over the phone, arriving at the dealership and identifying themselves with another phone call, while the dealer representative then unlocks the car and the test drive commences. 
In spite of the coronavirus crisis in China, Tesla sales continued to rise during February, with reports claiming that the brand sold 3,958 cars there in February, 400 more than in the previous month. That's in spite of the car sales in China said to have dropped by around 80% that month. 
Do you think this is a good idea? Let us know your thoughts in the comments below...