Tesla Model S software upgrade to "end range anxiety"
Tesla Motors' press conference reveals measures to end electric car range anxiety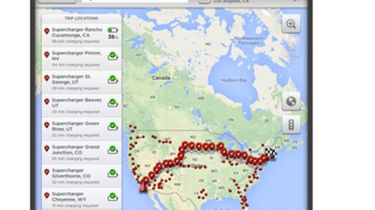 Tesla has announced more updates to its Model S to keep owners enjoying its latest technology. In a conference call with Auto Express, Tesla founder Elon Musk revealed that the company is deploying version 6.2 of its operating system over the air to Tesla owners in two weeks time.
The update will include a raft of new features. 'Range Assurance' communicates real time with Tesla supercharger charging network and warns the driver before they drive out of range. The navigation system will direct them to the nearest supercharger, taking into account numerous factors including traffic, temperature, wind speed and elevation. It will become impossible to run out of charge in a Model S by accident, said Musk.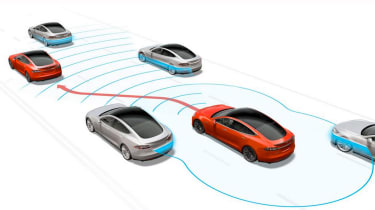 A new 'Trip Planner' function will direct the driver to their destination, taking into account the most convenient charger locations and charge time needed. The car will contact the owner on their phone when it has enough charge to proceed to the next charging point. Other new features include blindspot warning sensors, a valet mode, better radio reception and improved pedal feel.
The updates to the Tesla Model S software are suitable for cars built after October 2014 and are available now. Owners can receive the software update upon request with Tesla tweeting: "just like this tweet we'll send it over the air soon. It will pop up on your Model S screen."
Musk also gave Auto Express a sneaky peak of Tesla's Model S Version 7 update. It will include self-steering functions and improved functionality inside the cabin. Development cars are currently able to drive from San Francisco to Seattle without the driver ever touching the wheel thanks to auto steering tech.
• Tesla Model 3 to challenge BMW 3 Series
And once those cars get to the parking lot or garage, the Model S can even park itself and close the garage door! There will also be a facility to call your car and have it drive to you from the car park to where you are. "We're awakening the car with these technology upgrades, making it more awake and aware," said Musk.
Software version 7 will also sweep in a new user interface for the 17-inch tablet-like touchscreen in the Model S's cabin. It'll be slicker and easier to use than the current system.
Check out our round-up of the best electric cars on sale now