Tesla will build "more affordable" EV than Model 3, says CEO Elon Musk
CEO Elon Musk hints at plans to introduce smaller, cheaper model after the forthcoming Model 3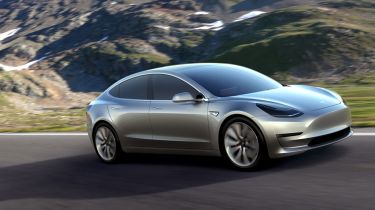 The ink is barely dry on the reported 400,000 Tesla Model 3 deposits, but CEO Elon Musk already has ambitions to create an even cheaper and more accessible electric car – potentially called Tesla Model 4.
In comments made at a Transport Solutions conference in Norway, the boss of the electric carmaker said he was "super excited" to produce the Model 3, a car "most people can afford" – starting from around $35,000 in the US. He then went on to claim that, thanks to economies-of-scale, a cheaper EV could be on the way soon.
"There will be future cars that are even more affordable down the road. With something like the Model 3, it's designed such that roughly half of people can afford the car. And then, with fourth generation, and smaller cars and whatnot, we will ultimately be in a position where anyone can afford the car".
Musk didn't reveal any further details about the smaller EV, but its safe to assume by his tone that it's still in the early stages of development. Earlier in the talk he stated that Tesla's long-term mission had always been to create an affordable electric car, but that more expensive models were essential for initial growth and investment.
"If we could have produced a great affordable electric car from day one, that's absolutely what we would have done. But the only way to success for a small company with limited resources was with a low-volume, high-price car, to a mid-priced, mid-volume car – and ultimately to an affordable, high volume car".
• Tesla Model S facelift revealed
Rumours have been circulating for some time that Tesla is planning a smaller 'Model Y' crossover to sit underneath the Model X in the range, acting as an affordable electric rival to cars like the Nissan Juke. Another possibility is that Musk will target the electric city car market with a challenger to the likes of the Renault Zoe. No details have been confirmed, but reports suggest the Model 4 name could be in the pipeline.
This being Tesla, we could expect the smaller car to still offer both performance and range capabilities that better most electric rivals. But, given Tesla's current product timeline, we don't predict the reveal of the smaller EV until 2018.
What do you think of a smaller, more affordable Tesla model? Let us know in the comments below...