Tesla reveals Supercharger access prices for new owners
New Teslas from 15 January onwards won't get lifetime free access, plus Tesla announces new idle penalty fee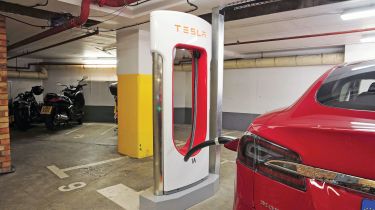 Tesla has revealed more details regarding its plans to charge owners for use of its Supercharger station, including how much it'll cost to top up a Tesla at a UK station, how many free Supercharger miles owners will get in credits, plus which cars will be exempt from the new charging scheme.
The company has revealed that Model S and Model X cars ordered after 15 January will face the new rules, and each car will get 400kWh of free Supercharger credits annually on the anniversary of their delivery.
• Best electric cars on sale 2016
Tesla says this is roughly the equivalent of 1,000 miles of charge, and that many owners will find the free charging miles cover their annual long-distance driving needs. Cars delivered before 15 January will still get free access to the stations for life.
Beyond the 400kWh allocation, brand new Teslas will be charged for stopping at a Supercharger station. In North America, prices will be fixed according to state, while elsewhere it will be fixed within each country – for UK a owner that means £0.20 per kilowatt hour, so no Tesla should cost more than £20 to fully recharge from flat. Top ups are billed directly to a Tesla account.
The example of taking a Tesla on a continental slog from Rome to Paris is given – a trip that would cost roughly €60 (£52) with the new charging structure in place.
The electric car company began constructing free Supercharger stations in 2012. The latest count puts the global network at 795 locations strong, with 5,085 individual chargers. Tesla claims that the move to charge customers to use the service is not designed to boost profits, and will instead pay for vital investment in the network.
In late 2017, Tesla will release the Model 3, and with a starting price of roughly £35,000 it will be the most affordable Tesla yet. It will be built at the company's new Gigafactory – a facility that will be capable of producing 500,000 cars a year once fully operational. Tesla currently has around 400,000 pre-orders for the Model 3, so demand for Supercharger stations is set to skyrocket once the car launches.
Supercharger idle fee
Tesla has also announced plans to introduce an idle fee across all of its supercharging stations in a bid to help increase availability for more of its customers.
Once a Tesla is fully charged owners will be remotely notified by the Tesla app. For every additional minute the car remains plugged into the supercharger a fee of 40p per minute will be incurred. However, if the car is removed from the supercharger within five minutes of being notified, the fee is waived. Any charges will be then billed at your next Service Centre visit.
Tesla said: "A customer would never leave a car parked by the pump at a gas station and the same thinking applies with Superchargers."
Tesla invests in European automated manufacturing
Alongside the changes to Supercharging and promises of investment in the network, Tesla has announced the acquisition of German engineering firm Grohmann.
The new company – Tesla Automation Grohmann – will assist Tesla in meeting its goal of producing 500,000 cars a year by 2018 with more efficient assembly lines.
Grohmann specialises in automated assembly for numerous industries including cars. Tesla's automated manufacturing systems will be designed at the German facility, before being put to use at the main Fremont base in California – there are no plans to build cars at the European plant.