Updated Tesla Model S launched with 400-mile range
Model S tweaks grant 402 mile maximum range on US EPA scale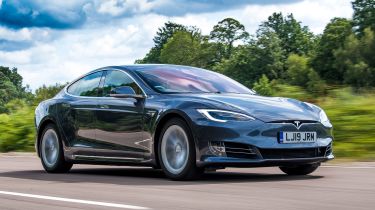 Tesla has revealed details of a new Model S electric saloon called Long Range Plus, which the firm claims is capable of 402 miles on a single charge. 
The US firm says the updates provide a 20 per cent improvement in range over the outgoing Model S Long Range. However, the new all-electric saloon was tested against the American EPA programme, which is slightly different to the WLTP cycle used in Europe.
• Best electric cars on sale now
Due to the size of America and the vast distances between its cities, the EPA test is geared towards sustained, long-distance cruising. The WLTP cycle favours the stop-start, short-distance driving which is common to Europe and the UK. As such, we expect this 402-mile figure will drop slightly once the car has been homologated for the European markets.
Tesla's revisions for the Model S Long Range Plus include a lighter battery pack and electric motors, lighter seats and a range of improved manufacturing tweaks carried over from the Model 3 and Model Y.
There's also a new regenerative braking system which now engages at lower speeds, along with a fresh set of aerodynamically-efficient alloy wheels, which the company says provide a two per cent improvement to the car's range alone.
Mechanical revisions include a new transmission for the car's front electric motor, which Tesla says provides a further two per cent improvement in range when cruising. The old car's mechanical oil pump has been replaced by an electric unit, too. 
What do you make of Tesla's new 400-mile Model S? Let us know in the comments section below…