UK Tesla Model S recalled over bonnet latch safety
Faulty bonnet latch could cause Tesla Model S 'frunk' to fly open, and at least one UK customer has had a close call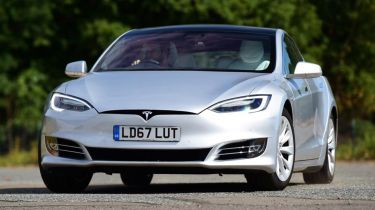 A Tesla safety recall announced in the US in December has now been extended to Model S cars registered between 2014 and 2021 here in the UK.
The recall addresses a fault in the location of the bonnet latch assembly, which Tesla says prevents the secondary latch from properly engaging the striker. The secondary latch should prevent the bonnet from flying open if the release is accidentally operated while driving, or if the bonnet is not fully secured after being opened and closed. 
The manufacturer says it's not aware of any crashes or injuries related to this condition.
However, Tesla Model S owner David Gifford contacted Auto Express having received the recall notification on 25 January. He told us the bonnet of his Model S flew open without warning last October, obscuring all vision through the windscreen while his wife was driving with their children, and shortly before the car was to join a dual carriageway.
"A front and rear collision was narrowly avoided because my wife was driving at only 26mph. If the bonnet had become unlatched after accelerating onto the dual carriageway there could have been a terrible accident," David told Auto Express.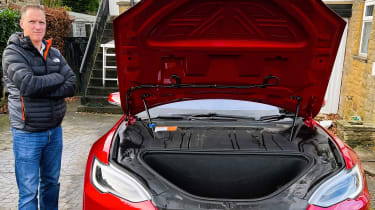 Repairing the damage to the bonnet and struts cost David almost £3,000, but Tesla has so far refused to acknowledge responsibility for the incident. David is also angered by the delayed notification to UK owners about the recall. He received his recall notification a month after Model S owners were notified in the US, and says he's in touch with another UK owner who received their notice at the same time.
After receiving the recall notice, David immediately contacted Tesla Customer Services again, and is asking them to reconsider paying his near-£3,000 repair bill.
We asked the electric car manufacturer why it appears to have delayed notifications to UK drivers about a safety critical recall by a month, after the issue had been identified in the US. The company has yet to comment.
Find out what happened when we pitched the Tesla Model 3 against the Ford Mustang Mach-E here...