'Uber seems to view its drivers as a necessary evil'
Uber will soon take delivery of Toyota's autonomous cars-cum-taxis, so professional drivers should be very afraid, thinks Mike Rutherford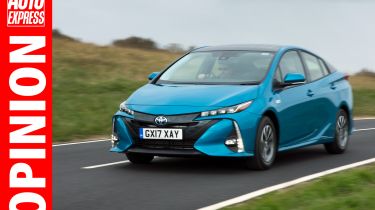 First my foreign mother, then later, my non-Brit wife warned me to be cautious of strange persons in mysterious, faraway lands. I ignored their advice, of course, and when a group of white-coated scientists from Toyota's secret development team requested my presence at the foot of Mount Fuji early one Sunday in 1989, I accepted the invitation immediately.
"Get in car now, it's ready to go," the techiest car blokes I've ever met ordered me on my arrival. On private roads and tracks their self-driving Toyota went, steered, stopped and parked itself faultlessly. Even back then. My immediate question as I stepped out after several surreal – but not frightening – laps: "Very clever and impressive, chaps, but who'd buy such a thing?"
• All you need to know about driverless cars
Quick as a flash, one of the scientists explained what he called "Japanese salary men or office ladies" often party hard on Friday nights but drink so much they struggle to find their way home by bus, train or taxi. Thus the need for Toyota's "uncrashable" driverless cars, designed, among other things, to get people home from bars and nightclubs.
Wind forward 29 years and Toyota's already impressive autonomous tech has improved beyond recognition. But legal considerations, safety concerns, insurance issues and other complications mean the original target buyers – intoxicated car users – are not, after all, the sort of people who'll purchase and be encouraged to operate their own autonomous vehicles. 
What can loosely be described as taxi operators will. Thus the revelation in recent days that the Japanese manufacturer's driverless division is investing an initial half a billion bucks in a venture with Uber.
The latter is a company which seems to view its drivers as a necessary evil – because they have the temerity to seek payment for the work they do. Oh, the cheek of it. But this 'problem' will wholly or partly disappear soon, when Uber takes delivery of Toyota's autonomous cars-cum-taxis. It'll be HUUUUUGE.
Professional drivers should be afraid – very afraid – of this job-destroying UberToy (or is it ToyUber?) venture. I'd prefer to see Toyota focusing on and investing in helping disabled, blind or elderly folk become outright owners or lease customers of simple, no-frills driverless, 24/7 mobility machines. 
The Japanese firm is the world's most profitable car company, so it can afford to offer subsidised driverless cars to at least some of the more deserving people on the planet. This, I think, would score Toyota far more brownie points than aiding and abetting the cruel process of making countless cab drivers across the globe hopelessly unemployed and unemployable. 
For more of Mike's columns, visit our dedicated hub page.