Toyota launches groundbreaking 10-year warranty
The 'Relax' programme covers new and used Toyota and Lexus vehicles, with the scheme applying retrospectively to second-hand models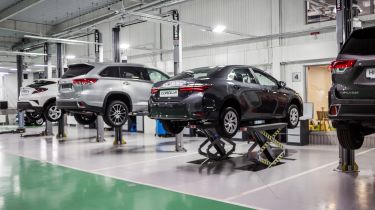 Toyota and Lexus have launched an industry-leading warranty programme that provides up to 10 years' cover for new and used cars, vans and pick-up trucks. 
The 'Relax' scheme adds a year's warranty to a vehicle each time it is serviced at a Toyota or Lexus dealer. There is no extra cost for the programme, servicing costs are unchanged, and vehicles are eligible until they are 10 years old or have covered 100,000 miles.
Relax comes with every new Toyota or Lexus, and also applies retrospectively to models already on the market, as long as they are under 10 years old and have covered fewer than 100,000 miles. This means if you were to go out today and buy a nine-year-old, 90,000-mile Prius, you could add a year's manufacturer warranty to it simply by getting it serviced at a Toyota dealer.
The scheme also applies to vehicles that have been maintained outside the Toyota and Lexus dealer networks: bringing a car back in for a main or interim service will activate Relax for a year. Vehicles used commercially, including taxis, are covered, as are all powertrain types, including hybrids, electric cars and the hydrogen Toyota Mirai.  
A number of manufacturers offer warranties that extend beyond the once-traditional three-year period; Renault and Hyundai provide five years' cover, while Kia gives a seven-year/100,000-mile warranty.
Toyota previously offered a five-year/100k-mile policy, and Lexus a three-year/60k one. Relax replaces both these with a three year, 60,000-mile warranty as standard, and this can be extended each time a vehicle is serviced at a main dealer. The scheme works in the same way for vehicles with longer service intervals: the Toyota Proace van, for example, has a two-year maintenance schedule, and so has two years of warranty added each time it is serviced. Toyota's previous warranty scheme, introduced in 2010, remains valid, with Relax beginning at the end of the five-year period.
Toyota's price promise, which sees dealers match service quotes from independent garages within 10 miles, is also unchanged. Rob Giles from Toyota GB called Relax "game-changing", while adding that it brings "compelling business benefits" for the firm.
Why is Toyota doing this?
Relax is good news for consumers, so is likely to attract new buyers in and of itself. Toyota also expects a "significant growth" in dealer footfall, upping servicing income and tempting more people with new cars. Residual values are also likely to increase, and with PCP deals paying off depreciation, over time this could theoretically have a positive impact on new-car finance. 
Plus the firms' exposure to warranty costs is proportionally low: our Driver Power data shows 9.6 per cent of Toyota and 11.1 per cent of Lexus owners had issues with their cars; the industry average was 17.34 per cent.
Do you own a Toyota? Let us know your thoughts on 'Relax' in the comments section below...