Tyre Test 2011
The Auto Express annual tyre test is back! We put 10 leading brands to the test to find Britain's top tyre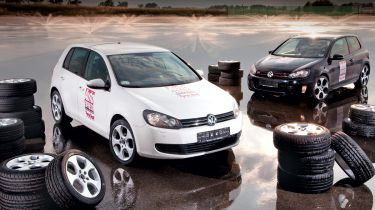 Compulsory tyre labelling comes into force next year, and manufacturers have never been so busy as they work to comply with the new rules. Each pattern will carry a rating, similar to those on fridges and other white goods, and makers are refining their line-ups to ensure they avoid the lowest bands.
But labelling takes into account only three factors: noise, fuel economy and wet grip. So has this frantic development for high ratings left us with rubber that scores well in those areas alone? For a complete picture of how a tyre performs and compares to rivals, we tested 10 of the best in nine key categories – spelled out below – and also considered price. So which is top of the Auto Express ratings, and deserves our Best Buy label?
As always, we look at a top-selling size – and this year, we return to the highly popular 225/45R17 tyre found on many family cars like our Volkswagen Golf test models. We also returned to Bridgestone's state-of-the-art test facility in Aprilia, just south of Rome, Italy. All our assessments were carried out by Auto Express drivers, apart from those requiring specialist skills and equipment.
We asked each manufacturer to send 10 tyres – eight for track testing and two for rolling resistance. Plus, we bought two sets at random and compared them to the supplied rubber on the wet braking strip; this ensured we were testing exactly what you can buy.
While the testing remains as rigorous as ever, we have changed the way we present our results, focusing on the tyres rather than the disciplines. In terms of scoring, the winner of each discipline is rated at 100 per cent and the rest ranked relative to its performance.
So which is the best all-rounder for your car? Our comprehensive test will reveal all.
The verdict
Former F1 champ Goodyear is on to another winner with the Asymmetric 2, combining consistent performances across our tests to take victory in this key size. There's another GP star in second, as Michelin's new design philosophy pays off: the Pilot Sport 3 just beat wet road champ Pirelli and fellow rain master Vredestein. A slight gap to Nokian proved it's not only for winter driving. Continental struggled in the wet tests, as did Dunlop. Host Bridgestone will not be happy to finish last of the premium brands. New Apollo came ninth, and will be pleased to have just pipped Korean rival Hankook.
| | | |
| --- | --- | --- |
| Ranking | Tyre | Overall score |
| 1 | Goodyear | 100.0% |
| 2 | Michelin | 99.6% |
| 3 | Pirelli | 99.3% |
| 4 | Vredestein | 99.2% |
| 5 | Nokian | 98.4% |
| 6 | Continental | 98.2% |
| 7 | Dunlop | 98.0% |
| 8 | Bridgestone | 97.3% |
| 9 | Apollo | 97.0% |
| 10 | Hankook | 96.5% |