The future of Renault vans revealed at the IAA Show (sponsored)
Renault's EZ-PRO Concept provided vision of the future on its 2018 Hanover show stand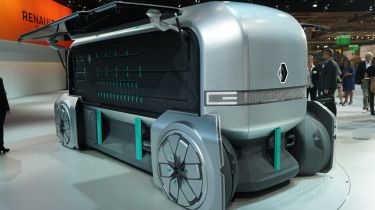 Renault has revealed its future vision of urban delivery and mobility at the 2018 IAA Commercial Vehicle Show in Hanover, Germany. The EZ-PRO Concept answers the question of how businesses can optimise the delivery of goods and services autonomously in congested urban areas in the year 2030 and beyond, and is part of Renault's pioneering research into what future mobility will look like in low-emissions zones across the globe.
With studies estimating that up to 70 per cent of the world's population will be living in big cities and urban areas by 2030, Renault has looked at the need for integrated transportation and delivery solutions in these locations, as they will be critical for future traffic flow, pollution and the quality of life for people living in urban areas. The all-electric EZ-PRO Concept spearheads Renault's vision of how future delivery systems will work, and puts Renault at the forefront of advanced urban mobility research and development.
EZ-PRO comprises a set of autonomous pods which can be connected together with a leader pod to create an urban delivery convoy that minimises the impact of delivery vehicles on the urban environment. Renault's mission is to replace vans and lorries with the EZ-PRO Concept, helping to reduce city emissions and cut down on the number of vehicles needed to complete delivery tasks.
The lead pod features a cab for a person to sit in. But instead of being a driver, they are considered a concierge. That's because the lead pod is autonomous and can make its own way along a pre-programmed route, and this allows the concierge to concentrate on other tasks. This includes managing the planned delivery schedule, while they can also provide a personal service for deliveries, rather than leaving customers to their own devices when a pod arrives to drop off a package.
Behind the lead pod are a set of robo pods that follow the lead vehicle. These peel split off to their own destinations once they are within range. Once a delivery is completed, the robo pod will join back up with the lead pod, ready to return to base.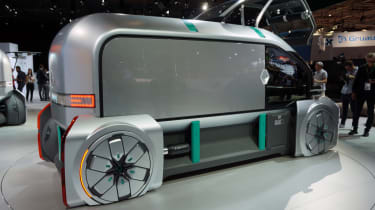 The pods themselves are designed to maximise space, but also feature organic styling that helps to integrate them within their environment. The smooth lines, penned by Renault Design Director Laurens van den Acker and his team, are designed to be easy on the eye, yet with 12 cubic metres of space inside, there's enough room for almost all urban delivery needs. At 4.8 metres long, the EZ-PRO pods are more compact than a truck or large van, while four-wheel steering means they're more agile, too. If a robo pod is stuck, then it has switchable driving lights that allow it to drive backwards as well as forwards.
Renault has created two robo pod concepts, with the second study converting the pod into a mobile coffee stand. The concept behind this is that the robo pod makes its own way to a location from a central depot, while the barista heads to the same location from home. Once there, the pod is ready to be used for the day, or it can be moved to a new location based on demand. Once the working day is done, the barista goes home, and the pod heads back to base to be restocked for the next day.
Partnership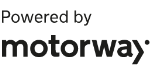 Need to sell your car?
Find your best offer from over 5,000+ dealers. It's that easy.
While the EZ-PRO Concept demonstrates Renault's vision of the future, some of the technology it uses is already here. The 100% electric Renault Pro+ Master Z.E. - also on display at Hanover - already uses electric drive for last-mile deliveries with zero tailpipe emissions. Meanwhile, the Renault Master's on-board telematics systems help fleet managers to monitor the location of their vans at all times and help with route planning, scheduled charging and maintenance stops.
Renault's Pro+ electric van range is completed by the Renault Kangoo Z.E. 33 and single-seat Twizy Cargo, while the full Renault Pro+ range is also present at Hanover. This includes the compact Renault Kangoo and mid-sized Renault Trafic panel vans, as well as converted versions of both the Renault Trafic and the Renault Master, including Chassis Cab and Luton LoLoader variants.
Take our quick survey for a chance to win 1 of 10 £100 vouchers of your choice. 
More from Renault vans...