Best van conversions
Here are some of the best van conversions to help your business, including bulkheads, van security and storage racks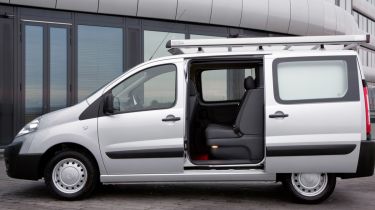 If you need a van for your business, you want it to work for you – and there's a whole range of van conversions to tailor the load bay to your requirements.
Whether you own or lease your van, and whatever size it is – from small vans like the Ford Transit Connect and Citroen Berlingo to large models such as the Volkswagen Crafter and Vauxhall Movano – the best way to protect its value is to line the load bay. This will not only keep the van as pristine as possible; it will also protect your cargo from damage in transit.
Ply lining is easily the most popular solution here. Most manufacturers offer these linings as an option on new models, but there's also a whole host of companies that will carry out aftermarket van conversions. Many have pre-made kits to line the load floor, sides, wheel boxes and the insides of the doors on popular vans, while others will cut and fit ply lining while you wait. Either way, this is a sound investment.
Ply lining isn't for everyone, though, so van owners also have a number of specialist finishes to choose from. These range from anti-slip linings for the floor and wheel boxes – usually made of ply coated in a durable, waterproof material – to a fully waterproof lining for the whole of the load bay, constructed from tough polypropylene plastic. Other options include glass reinforced plastic (GRP) and spray-on linings, like Speedliner.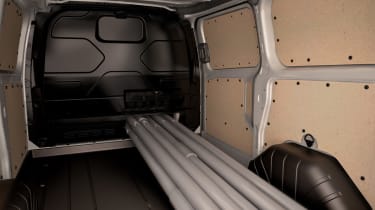 Again, manufacturers provide a choice of bulkheads on new models, but if you buy second-hand or your business needs change, van conversions can be carried out to fit an aftermarket bulkhead. Steel bulkheads from the likes of Van Guard set the industry standard – these are constructed from heavy-gauge metal and zinc-coated, and provide the optimum protection for driver and passengers if a big load moves in an accident. Ply wood bulkheads are also available, for van conversions being carried out on a smaller budget, and whichever you choose, you'll see an improvement in cab comfort, as bulkheads reduce road noise and make the interior easier to heat.
Load bay racking and shelving will take care of cargo as much as occupants, and again, there's a range of aftermarket options. Many suppliers will custom build ply wood racking and shelving to suit your needs if you're on a budget, although steel set-ups are ultimately more durable and provide greater security.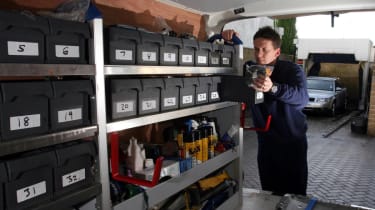 Plus, the modular steel racking from the likes of Van Guard, BiGDUG and System Edstrom, as well as the Smartvan system from Bott, can be adapted to suit your changing needs – these set-ups allow you to switch between shelving and removable trays, for example. Ply racking isn't so versatile, and many of these steel options have been crash tested to prove their durability.
Yet not all drivers want their van conversion to provide easy access to their cargo – security is essential for tradesmen who rely on thousands of pounds worth of tools to make a living. And this is where a secure storage box can come into its own, especially in pick-ups like the Volkswagen Amarok and Toyota Hilux, where the load bay is open.
Van Guard sells its class-leading Tool Store in a wide range of sizes, to suit different business requirements and different vans, and there's a choice of single and twin locks, for extra security. Other options include the Van Vault and OxBox – the latter can be bolted to the floor of your van to stop thieves in their tracks.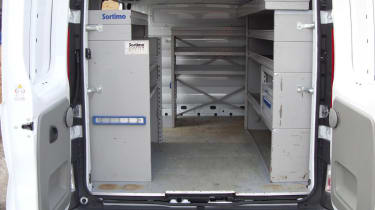 Still, there's a limit to what can be sensibly stored inside even the biggest vans, which is why many owners look to the roof or the rear doors for extra carrying options. Rhino is the big name in van racks, providing everything from simple roof bars and modular roof racks to sophisticated gas-assisted ladder racks and rear door storage solutions, all designed and produced in the UK.
Van Guard is also making a big impact with its heavy-duty, aerodynamic Ulti Bars, while a number of manufacturers offer pipe tubes and carriers to suit your needs. Whatever you're carrying, just be careful not to exceed the rack's weight limit.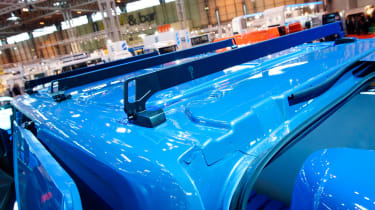 So the possibilities are endless in the world of van conversions. If your business has a specialist requirement, there's almost certainly an answer – as well as an army of suppliers and fitters with the design expertise to craft a bespoke solution. The only limits are your budget and your imagination.