Vauxhall Movano van review
The Vauxhall Movano offers front and rear-wheel-drive panel vans, with strong Bi-Turbo engines at the top of the line-up
Many new cars boast of vast levels of choice and personalisation, but nothing gives you the freedom that a good panel van does. The Vauxhall Movano is one such van.
Or rather it's several such vans, as it's largely the same as two other large vans - the Renault Master and Nissan NV400. The Movano doesn't just have its sister vehicles as rivals, though - this van class is hotly contested, with the Ford Transit, Mercedes Sprinter, Volkswagen Crafter and Citroen Relay/Peugeot Boxer/Fiat Ducato all competing for a slice of the same pie.
Vauxhall's trump card is the sheer level of choice in the Movano range. It's offered in four body lengths and three roof heights giving load volumes of 7.8 cubic metres to 17 cubic metres. Not only that, but there are four engine choices, front and rear-wheel-drive options and an optional automatic gearbox.
Still not enough? Well, you can also get your Movano with extra seats - there's a double crew cab option, six and nine-seat Combi models, a full-sized 17-seat minibus, plus platform cab, box van, dropside and tipper versions.
The engines are all 2.3-litre CDTi common-rail diesels with varying levels of power. The engine line-up was bolstered by the addition of Bi-Turbo versions of the 2.3 CDTi unit that add extra muscle at the top of the Movano range. Most models get a 6-speed manual gearbox, but Vauxhall's TecShift automated manual box is an option. It's offered with the mid-range 2.3 CDTi 125 engine.
The Vauxhall Movano has been around for a while and doesn't feel as modern or polished as some of the newer arrivals on the panel van scene. It is a tough customer, however, and the arrival of the Bi-Turbo engines has boosted its capabilities further. The big Vauxhall remains a popular choice with operators.
MPG, CO2 and Running Costs
The Movano is offered with 108bhp, 125bhp, 134bhp and 161bhp versions of the firm's 2.3-litre diesel engine, in both front and rear-drive models. All are turbocharged common-rail diesels but the CDTi 136 (134bhp) and CDTi 163 (161bhp) are Bi-Turbo units with a pair of turbos providing boost.
All three engines drive through a six-speed manual gearbox as standard, though a Tecshift six-speed automated gearbox is also available with the 125bhp engine.
Vauxhall's ecoFLEX fuel-saving technology, including stop-start, is also available on some models with all of the newer Bi-Turbo units getting it.
All models offer competitive fuel figures, with front-drive and rear-wheel-drive Movanos offering combined economy figure in the 29-41mpg range. Emissions range from 184g/km on the ecoFLEX models to 249g/km for the heaviest rear-drive vans. That's similar to the rear-drive-only Mercedes Sprinter and VW Crafter, though the Mercedes offers higher engine outputs and the VW runs smaller 2.0-litre diesel engines.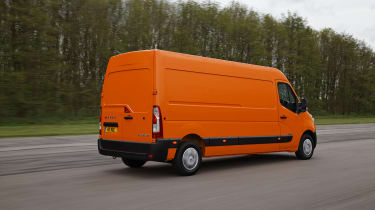 Service intervals for the Movano are set at 25,000 miles or two years.
Load Space and Practicality
There's a Vauxhall Movano to suit almost every eventuality. With four body lengths, three roof heights, front and rear-drive chassis, the Movano delivers load volumes of 7.8-17.0 cubic metres.
If even that's not enough, the Movano is available as a chassis cab for conversion to a Luton box van or light truck. Vauxhall also offers a box van variant, plus tipper, dropside in chassis cab and crew cab guises. As well as tackling the highly competitive 3,500kg market in both front and rear drive, the Movano goes right up to 4,500kg gross weight and, with a 3,000kg trailer limit, can offer a train weight of 7,500kg.
Vauxhall offers half-height protective panels in the Movano's load area as part of the standard package on rear-drive models. Full-height ply lining is available on all Movanos as an option.
Protective floor coverings are also offered, or you can opt for an anti-slip floor with built-in fixing rails, with anchor points every 25mm. Side wall anchor rails, movable partitions and a telescopic blocking bar system are offered for improved load retention.
All Movano vans have a full-height steel bulkhead. Vauxhall offers double-cab models on the L2Hs and L3H2 front-drive chassis, or the L3H2 rear-drive model. The double cab has four individual rear seats and a bulkhead, providing safe transport for up to seven people and a secure storage area in the rear.
For greater versatility, there are also Combi versions with second and third rows of seating for three, providing six or nine-seat layouts, with the ability to remove seating when greater load space is required. If additional load carrying capability is needed, there are roof bars and roof tray racks on offer, with a rear-door steel ladder available, allowing up to 200kg to be carried on the roof.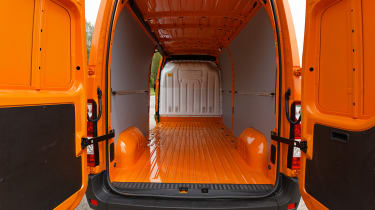 A heavy-duty towing hook can also be factory supplied. Vauxhall also offers a range of conversions based on the Movano chassis. These core conversions carry the same three-year/100,000-mile warranty as the standard panel van.
An ESP-Plus electronic stability programme is standard on all rear-wheel-drive models and comes as a £400 option on front-drive vans. ESP-Plus reduces throttle response and varies the braking force to each wheel when a loss of traction is detected, ensuring that the driver remains in control at all times.
A driver's airbag is standard, with a passenger bag, and driver and passenger side-impact airbags available as options. Other safety additions include reverse parking sensors (£265), a speed limiter (£75) and a lighting pack (£245) that includes static cornering lights, where, depending on vehicle speed and steering angle, an additional light illuminates the corner of the road during turning.
The Movano is sturdily built, with a durable cab that can take the rigours of everyday life. The CDTi engine has chain-driven cams, so there are no concerns about belt changes. Oil change intervals of 25,000 miles or two years, along with a 100,000-mile warranty, suggest strong reliability.
The Movano is a good van to drive, with a commanding driving position and a comfortable cab. The steering is on the light side, which is good in town but doesn't provide much reassurance on the open road.
All four engines have a decent combination of power and economy. The 108bhp CDTi 110 opens proceedings and will be fine for light duty work. The CDTi 125 model is offered with the TecShift self-shifting gearbox that isn't the smoothest of its type but does take the strain out of down driving and multi-drop work.
At the upper end of the range are the Bi-Turbo CDTi units, the CDTi 136 (134bhp) and the range-topping CDTi 163 with 161bhp. These are impressive powerplants with plenty of low-down muscle and decent refinement.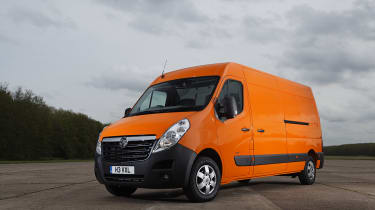 Both front and rear-drive Movanos handle well, with powerful brakes and relatively supple suspension, even when unladen.
Those looking for increased off-road traction or stronger towing capability can specify a heavy-duty twin-rear wheel option. There is a rear air-suspension option (£2,000) available for 3,500kg GVW front-drive models, while rear-drive vans can be ordered with an optional locking rear differential (£500) for additional traction.
The Movano has a solid rather than spectacular cab interior, with more storage compartments, boxes and cubbies than most drivers will ever use.
For those customers using the van as a mobile office, there's even the option of a rotating laptop table on the fold-down middle seat back. It's a bit of a climb up into the Movano cab, but the upside is excellent visibility and a commanding view of the road ahead.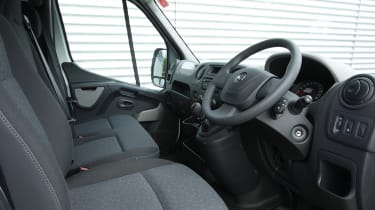 A six-way adjustable driver's seat with armrest, steering-column-mounted audio controls, electric windows, and aux and USB interface with Bluetooth connectivity make the Movano very easy to live with.
Options include air-conditioning (£600), full climate control (£900), cruise control (£200) and a digital tachograph (£525). However it is worth looking at options packs as they deliver good value for money. For example the Comfort Pack (£1,295) includes climate control, sat-nav with a remote monitor, enhanced audio with Bluetooth and aux input and four 20W speakers. Alternatively, for the harder-working van there's a Construction Pack (£950) available for rear-drive vans that incorporates an air-suspended driver's seat, a locking rear differential and a tow bar with electrics.
Van dimensions
| | | | |
| --- | --- | --- | --- |
| Body style | Height | Width | Length |
| L1H1 FWD van | 2,307mm | 2,070mm | 5,048mm |
| L1H2 FWD van | 2,500mm | 2,070mm | 5,048mm |
| L2H2 FWD van | 2,500mm | 2,070mm | 5,548mm |
| L2H3 FWD van | 2,749mm | 2,070mm | 5,548mm |
| L3H2 FWD van | 2,488mm | 2,070mm | 6,198mm |
| L3H3 FWD van | 2,744mm | 2,070mm | 6,198mm |
| L3H2 RWD van | 2,527mm | 2,070mm | 6,198mm |
| L3H3 RWD van | 2,786mm | 2,070mm | 6,198mm |
| L4H2 RWD van | 2,557mm | 2,070mm | 6,848mm |
| L4H3 RWD van | 2,808mm | 2,070mm | 6,848mm |
(Widths are body width without mirrors. With mirrors: 2,470mm)
Load area dimensions
| | | | | |
| --- | --- | --- | --- | --- |
| Body style | Height | Width | Length | Volume |
| L1H1 FWD van | 1,700mm | 1,765mm | 2,583mm | 7.8m3 |
| L1H2 FWD van | 1,894mm | 1,765mm | 2,583mm | 8.6m3 |
| L2H2 FWD van | 1,894mm | 1,765mm | 3,083mm | 10.8m3 |
| L2H2 FWD Double cab | 1,894mm | 1,765mm | 2,175mm | 6.9m3 |
| L2H3 FWD van | 2,144mm | 1,765mm | 3,083mm | 12.3m3 |
| L3H2 FWD van | 1,894mm | 1,765mm | 3,733mm | 13.0m3 |
| L3H2 FWD Double cab | 1,894mm | 1,765mm | 2,825mm | 9.0m3 |
| L3H3 FWD van | 2,144mm | 1,765mm | 3,733mm | 14.8m3 |
| L3H2 RWD van | 1,798mm | 1,765mm | 3,733mm | 12.4m3 |
| L3H2 RWD Double cab | 1,798mm | 1,765mm | 2,825mm | 8.4m3 |
| L3H3 RWD van | 2,048mm | 1,765mm | 3,733mm | 14.2m3 |
| L4H2 RWD van | 1,798mm | 1,765mm | 4,383mm | 14.9m3 |
| L4H3 RWD van | 2,048mm | 1,765mm | 4,383mm | 17.0m3 |
(Widths are maximums. Width between wheelarches is 1,380mm for FWD models and 1,080mm-1,380mm for RWD models with single or double rear wheels)