'Now it's free of GM, Vauxhall must find its own niche'
Mike Rutherford says that after escaping GM, Vauxhall could replicate Jaguar's post-Ford era success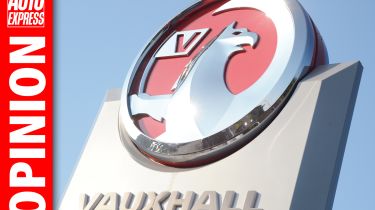 Loved-up Peugeot and Opel have finally done the decent thing and consummated their marriage. There's no doubt that the former is the stronger and more secure partner. But their respective siblings – Citroen and DS on one side, Vauxhall on the other – apparently gave it their blessing, so all five can now look to work together as one big happy family.
But the harsh truth is that they have too many factories, design centres and offices in too many countries. It's inevitable that the PSA Group will close some. Remember Ryton (Peugeot), Longbridge (Rover) and Dagenham (Ford)? They were entirely or largely murdered as car-building venues.
• PSA completes £1.9bn deal for Vauxhall and GM
Vauxhall's Ellesmere Port and Luton factories are safe for now, but they're bound to come under scrutiny in the early 2020s. Their workers must continue to prove they're at least as talented, hard-working and as cheap as their new colleagues.
Another issue is that the colossal Peugeot, Citroen, DS, Opel, Vauxhall clan occupies a narrow window in terms of product diversity, price and appeal. There's an awful lot of modest, small to medium family cars that clash with each other. At the very least the group needs a budget brand (Citroen?), mid-market mainstay marque (Peugeot), a premium contender (DS, potentially), plus a separate exec car division to take on Audi, BMW, Mercedes and Jaguar (something a brave Opel might try).
That leaves Vauxhall to find its own niche. For starters it needs subtle and tastefully designed 'crafted in Britain' badges and Union Jack flags fixed to every vehicle it builds to exploit its genuine Britishness – a quality that's appreciated in Asia and North America.
But the type of vehicles Vauxhall has to base its future on? That's impossible to answer at this point. Quintessentially British sports cars (think VX220), 4x4s and EVs are possibilities. Why not? Jaguar thrived when it finally shook off Ford; Vauxhall might do the same now that it's escaped from General Motors. Speaking of GM, it let Saab and Daewoo sink in recent years; at least it sold on Opel and Vauxhall. Dongfeng, the Chinese part owner of the PSA Group, got a bargain at around £2bn.
This is further proof that the Chinese have a great and diverse motor industry future and the Americans less so. Who'd have thought it? Communist China – champion of the capitalist car world.
What do you think Vauxhall's future will look like? Have your say in the comments section below.