Vauxhall confirms cut in dealer numbers
Vauxhall confirms cut in dealer numbers, with the potential for the British brand to share sites with Peugeot, Citroen and DS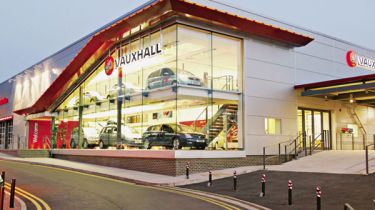 Vauxhall is to terminate all its dealer contracts from April 2019 and will re-franchise its entire dealership network, with some dealers facing cuts. 
Vauxhall boss Stephen Norman said the company is to give its 326 dealers that are run by 93 groups, and which employ 12,000 people, a two-year notice on April 30th.
Though the brand expects the 'majority' of dealers will retain their franchises, the boss didn't rule out cuts. However, Norman said the company will continue to have the second biggest network from 2019 onwards, meaning the brand will operate at least 200 franchises.
• Jaguar Land Rover cuts 1,000 UK jobs
According to figures from the Society of Motor Manufacturers and Traders Vauxhall has seen a 18.28 per cent fall in sales so far this year, with 54,535 cars registered by March.
Norman also said that he doesn't expect any job losses as a result of the re-franchising: "I do not expect anyone to lose their jobs as a result of this – I do not expect there to be a reduction in retail outlets as a result of these changes. Those retailers [who lose their franchises] will take on other businesses," he commented.
With Vauxhall and Opel now under PSA ownership, Norman also said that it would be inevitable that Vauxhall dealers would be sharing facilities with Peugeot, Citroen and DS outlets. The same re-franchising process will be going on across the whole of Europe with the aim of improving dealer profitability.
"Re-franchising is not something that doesn't happen at regular instances within the motor industry," said Norman. "It last happened with Vauxhall Opel in 2013."
"Conditions are changing, competition is more ferocious and different methods of consumption, which includes online, are changing the way people buy cars."
Norman said that a decision would be made in the third quarter of 2018 as to which dealers would be getting new contracts, with those contracts and any necessary terminations coming into effect on 30th April 2020.
For more news on Vauxhall, including the recent announcement on the future of its Luton manufacturing plant, visit our dedicated news and reviews page.