Vauxhall Adam S appears at Geneva Motor Show
The hot new Vauxhall Adam S gets a more powerful engine and beefier brakes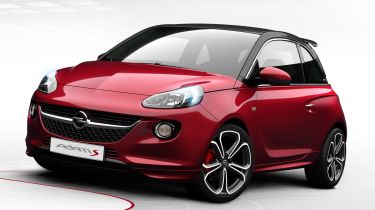 Vauxhall has revealed its plans for a faster version of the Adam city car, with this new 148bhp turbocharged Vauxhall Adam S. The new range-topping model is at the Geneva Motor Show as a production preview concept that is essentially how the car will look when it arrives later this year.
Under the bonnet is a turbo version of the current 1.4-litre engine, boosting power by 50bhp - putting it in the same kind of territory as the new MINI Cooper. With its new-found grunt Vauxhall says it'll be able to hit 137mph, and while nothing is confirmed you can expect 0-62mph in just under eight seconds.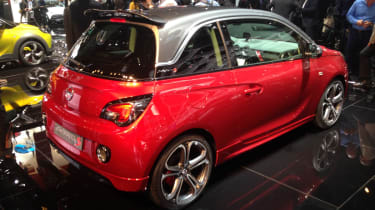 This isn't quite a VXR version, but it does have what Vauxhall calls a VXR braking system with 16-inch discs up front and red-painted calipers. With the Adam based on the Corsa's platform it could still theoretically use the Corsa VXR's 189bhp turbocharged 1.6-litre engine for a future model.
The Adam S will be easy to spot despite the hundreds of personalisation combinations available with the standard car. The red body paint of the show car is topped by a black roof ending with a spoiler, sill extensions underneath and an unmissable exhaust pipe round the back. New alloy wheels complete the exterior look while inside Recaro sports seats and red and white flashes on the instrument and door panels mark the car out from the standard model.
It's not the only new engine available for the Adam ­- also at the show is a production model with the new three-cylinder 1.0-litre turbo petrol engine that Vauxhall hopes will take some of the shine off Ford's Ecoboost unit with similar specs.
That was shown in the Adam Rocks, a version of the car given a mild SUV makeover with body cladding and a canvas retractable sunroof, but it will be made available in the wider range soon to give a version of the car with CO2 emissions below 100g/km for the first time.