Vauxhall Adam Rocks adds hint of SUV to Adam city car
Vauxhall reveals new Adam Rocks at Geneva Motor Show, a more rugged version of the Adam city car
Vauxhall has revealed the Adam Rocks, a tougher version of the Adam city car. Revealed at the Geneva Motor Show, the Rocks manages to be both a jacked-up mini crossover and a convertible thanks to a peel-back roof.
The Vauxhall Adam Rocks sticks closely to the formula of the concept first previewed at Geneva last year, with a raised ride height and cladding to protect the bodywork. It's taller and wider than the standard car, thanks to 15mm raised suspension and the protruding bodywork.
The revised front grille – which has a chrome bar running through it – is embedded into the cladding, while silver boomerang shapes wrap around the foglights at the front and back. A rear roof spoiler and LED running lights come as standard, and metal skid plates complete the mock off-roader look.
Changes go beyond the styling, though, with retuned suspension, recalibrated steering and revised rear geometry. Either 17 or 18-inch alloys are available, plus several new colours – including the Goldbusters Yellow seen on the car pictured.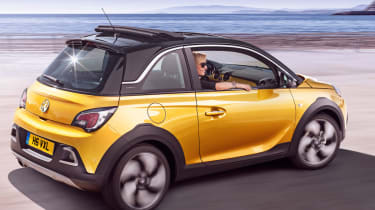 Vauxhall Adam Rocks: folding fabric roof
The Adam Rocks is available exclusively with a folding fabric roof – and the standard Adam will be offered with the same hood later in the year. The triple-layer roof slides back in five seconds at the touch of a button.
As with the Fiat 500C, which employs a similar roof system, it has no impact on the car's stiffness – so the Rocks should be just as good to drive as the fixed-roof Adam.
Vauxhall Adam Rocks: new 1.0 ECOTEC engine
There's big news under the bonnet, too, because this is the first model with Vauxhall's all-new 1.0-litre ECOTEC three-cylinder turbo. No efficiency figures are yet available, but the car has either 89bhp or 114bhp and a six-speed manual box only.
The new engine will soon be rolled out across the Adam line-up, and will feature in a range of other Vauxhalls including the new Corsa, due later this year. Two other petrol engines are also offered – a 69bhp 1.2 and a 1.4 with 86bhp or 99bhp.
Rocks interior combinations aren't for the faint-hearted, with a choice of colour schemes including dark brown seats with bright blue stitching. For £275 you can have the Intellilink infotainment system, which features a seven-inch touchscreen capable of connecting with selected apps on your Android or iOS smartphone.
Prices aren't yet known, but expect a premium of £3,000 over the regular Adam when the Rocks goes on sale in the summer.