New Renault Twingo 2014 arrives in Geneva
New Renault Twingo has been revealed at the Geneva Motor Show 2014
The new 2014 Renault Twingo has officially emerged today at the Geneva show. City cars are taking over the Geneva Motor Show in 2014, and Renault is leading the charge with its striking all-new Twingo.
Developed alongside Mercedes' new Smart ForFour, the production Twingo has kept many of the retro design cues from the brilliant Twin'Run concept. The flat new face, wide rear arches and tiny overhangs are all nods to the Renault 5, and hint at the Twingo's unique layout.
As previously rumoured, the new engine will be mounted under the boot, driving the rear wheels, which Renault says has freed up passenger space inside the cabin and boosted its manoeuvrability.
Although the company is keeping the engine line-up a secret until the show, it is likely that the Twingo will get a pair of three-cylinder petrol engines, possibly the 900cc turbocharged TCe unit from the Renault Clio, which in that car produces a decent 90bhp and 135Nm of torque.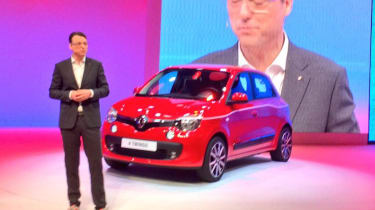 Renault Twingo specs
At the back the one-piece glass tailgate encompasses the rear light clusters, and there will be a wide range of personalisation for customers to choose from, including alloy wheels, mirror caps interior trim, plus the sporty sticker decals you can see in our pictures.
Despite being more compact that its predecessor, the new Twingo will be available as a five-door, and in the top-down view you can make out a version with a retractable fabric roof similar to the Fiat 500C and Citroen DS3 Cabrio.
The rear door handles are neatly hidden in the window frames, just like the Clio, and Renault claims the new architecture means that the Twingo will have the kind of roomy interior normally found in cars from the class above. As yet there are no official stats for performance, but to keep Twingo competitive it is likely to return close to 70mpg, and dip well below the 100g/km mark for CO2.
It is likely to use the R-link touchscreen infotainment system from the Clio, which allows for a high level of smartphone connectivity, and includes sat-nav and media apps.
Stay up to date with all the latest by following Auto Express on Twitter and joining us on Facebook.