Old vs New: Vauxhall Astra GTE vs Vauxhall Astra VXR
Vauxhall's hot Astras old and new face-off on our runway. Can the 80s GTE beat the modern day VXR?
When it comes to hot 80s metal the Vauxhall Astra GTE is often sidelined and forgotten about because it was a bit late to the game. But it's a seriously hot rival for the best of its generation. The question is, how will it do in a drag race against it's power-packed modern equivalent – the Vauxhall Astra VXR.
The Mk1 GTE we tested was built in 1983 and was the first in a generation of hot Astras. It offers 115bhp and a top speed of 115mph. The car was based on the standard Astra but given some design tweaks for that hot hatch edge.
• Old vs New drag race challenge - in pictures
The GTE might have been a poster boy of its day but the modern VXR has the same credentials. With a 2.0-litre 16v turbocharged engine, its harboring 276bhp. It's also got a top speed of 155mph and claims to do 0-60 in 5.9 seconds.
Take a look at the VXR and you'll see they've ticked all the right boxes for a hot hatchback. Vauxhall has given it a sportier grille and bumper, special alloys and round the back, not one but two spoilers.
There are 32 years between these two cars so it might seem a little unfair on the old GTE. But as we're giving our older cars a one second head start for every decade they've been around, our vintage Vauxhall will leave the line three seconds before the VXR.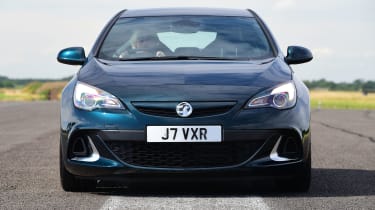 And the winner is... New
There was just 0.8s between the two cars but the Vauxhall VXR was the winner! In total it took the old Vauxhall 17 seconds to do the quarter mile, and it took the VXR just 14.2 seconds. So we can report that in 30 years Vauxhall's hottest hatch has got almost three seconds faster.
Old vs New drag race videos
• Vauxhall Astra GTE vs Vauxhall Astra VXR
Like a good drag race? Check out our epic Drag Race Shoot-out videos here...