Old vs New: Ford Fiesta XR2 vs Ford Fiesta ST
Can the XR2 from the 80s out sprint today's Ford Fiesta ST? The fast Fords face-off in our drag race...
When we see the letters XR, RS or ST on a fast Ford we know it's something worth getting excited about. So, for our retro drag racing we couldn't leave out the magnificent XR2 and Fiesta ST.
Built from 1984 to 1989 and the XR2 was £8,430 when new. The maximum power available is only 96bhp – making it the lowest powered car in our drag races! The top speed is 110mph though and it was the boy racers' dream car in its day. In the five years these were in production 150,000 were sold.
The XR2 has got the distinctive pepperpot alloys and rally-esque headlights. Inside, it's got sports seats, a dated dash and I hope you've got all your music on cassettes because that's all you'll be listening to in here.
• Old vs New drag race challenge - in pictures
The first thing you'll spot when you compare the XR2 and ST is that the new model dwarfs the old. The looks are way more modern, plus there's the little matter of 180bhp and a top speed of 139mph it's a far cry from the XR2.
We had the range topping the ST-3 version. Compared to the standard Fiesta it's got all the kit you could possibly want and plenty of sporty features to make you feel like a racer on the road – but would this extra weight hinder the modern car in the race? It's been given a sportier mesh front grille, deeper bumpers, red calipers and a spoiler.
For our drag races we've made it fairer by giving our retro racers a one second head start for every decade they've been around. This the XR2 is from 1989 so gets a 2.5s lead off the line. Will the ST be able to handle it?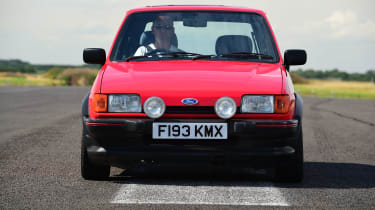 And the winner is... Old
It was 17 seconds for the XR2 and 15 for the Fiesta ST but the head start was too much to reel in. As with the Golf drag race, when you look at the power to weight ratios the figures become closer. Weighing only 840kg the XR2 has 114bhp per tonne while the ST has 155bhp per tonne. However, after the quarter mile is up the XR2 quickly runs out of puff and the ST soon passes it.
Old vs New drag race videos
Like a good drag race? Check out our epic Drag Race Shoot-out videos here...