Old vs New: VW Golf GTI MkI vs VW Golf GTI MkVII
Can the original VW Golf GTI beat its modern day equivalent in a good old fashioned drag race?
When Volkswagen took the Golf and decided to stick a GTI badge on it in 1975, the world fell in love with the hot hatchback. VW engineers had begun working on a sporty version of the standard Golf in their spare time, adding a chin spoiler – the only aerodynamic addition to improve front-end downforce – black plastic wheel arches, some black decals and the important red GTI pinstripe around the grille.
With a kerb weight of just 810kg plus a 1.6-litre engine producing 108bhp and 140Nm of torque, the Golf GTI could hit 60 miles an hour in 9 seconds and carry on to 110mph.
• Old vs New drag race challenge - in pictures
Head over to the new 7th generation GTI and it's held onto those all important design cues. There's a red stripe across the grille, so you know it's a GTI. And inside we've got that all important tartan upholstery and the golfball gear knob remains.
And, well, that's pretty much it for similarities, but we are seven generations on so it's fair that quite a lot has changed. The Mk7 is predictably the fastest Golf GTI yet, with a 217bhp engine now up to 2.0-litres.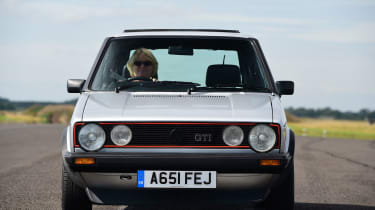 And the winner is... OLD
The Mk1 Golf GTI crossed the line first, taking 19.7 seconds to complete the quarter mile. The Mk7 took 18.2 seconds to cover the distance, but with the 3.5 second head start it couldn't quite catch up. Because the older car is so much lighter, the new car only actually has around 25bhp per tonne more than the old one.
Off the line the new GTI is quicker, but by that time the old GTI is already up to speed. It's close by the end and given a few more metres the Mk7 car would have the classic beaten. To be fair to the new car, the gearbox was very stiff and we think a few more miles on the clock to run it in would have made a difference too but then again, this is a test of new against old and old won through!
Old vs New drag race videos
Like a good drag race? Check out our epic Drag Race Shoot-out videos here...