Old vs New: Mazda MX-5 MkI vs Mazda MX-5 MkIV
Mazda's mighty roadster fights it our with itself on our drag race runway. Can the original car beat the latest version?
The new Mazda MX-5 is finally here but can it really be as good as the original? Well, to find out we brought both of them to our runway for a head-to-head drag race.
Mazda has kept the focus on pure driving fun when it comes to the MX-5 family. Those cute looks have spanned the generations, although it's new styling is quite different from the simple lines of the first generation car.
• Old vs New drag race challenge - in pictures
Early models came with a 1.6-litre 114bhp engine but this is the later 1.8-litre model with 16bhp extra. The MX-5's appearance has really stood the test of time. Today it doesn't look particularly dated when parked alongside modern cars.
Jump forward 26 years and we get the 2015 MX-5. However, this is the 1.5-litre option, so already things are looking tricky for the newer car. It's got a smaller engine but almost the same brake horsepower and, actually, the original should do 0 to 62mph two tenths of a seconds faster…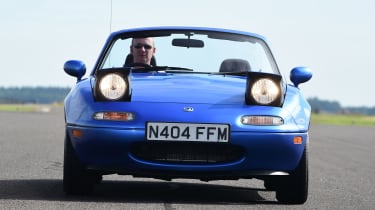 And the winner is... OLD
Well the years have obviously taken their toll on the older MX-5, which is lighter and would have originally been slightly more powerful, we expected it to do better than it did. When we ran the drag race with the head start for the original MX-5 it took 16.9 seconds with the new model taking 16.4 seconds.
It was so close we decided to run the race again, with both leaving at the same time, and this time the new MX-5 came home a second faster but we think that's still a great result for the original.
Old vs New drag race videos
• Mazda MX-5 MkI vs Mazda MX-5 MkIV
Like a good drag race? Check out our epic Drag Race Shoot-out videos here...