Vauxhall Vivaro Tourer Weekender campervan makes debut
New Vauxhall Vivaro model targets VW Transporter's hold on the camper van conversion market
Vauxhall is expanding its Vivaro van range with a new lifestyle model called the Vivaro Tourer Weekender. It's being revealed at the 2017 Frankfurt Motor Show and it expands the British-built Vivaro's model range into the 'lifestyle' camper market for the first time. Here it will compete against rivals such as the Volkswagen T6 Transporter and Mercedes Vito.
While the Vivaro Tourer Weekender looks the same as the standard shuttle bus version of the Vivaro from the outside, the back seats can be folded to create a double bed, transforming this van into potential transport for weekend campsite breaks.
• Best VW campervan conversions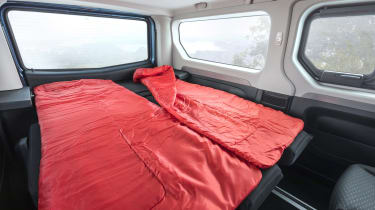 The Vivaro Weekender is based on the L2 body style, so it has an extended wheelbase to create more space for the bed in the back, while the two rows of three-abreast seating can be arranged to face each other or in conventional rows.
Power for the Weekender comes from Vauxhall's 1.6-litre BiCDTi twin-turbodiesel in either 125PS or 145PS forms, and Vauxhall's head of commercial vehicles, Steve Bryant said it marks a new era for the Vivaro: "This new top-of-the-range Vivaro, joining the recently-announced Tourer Elite business shuttle and the Combi Plus, offers our customers even more comfort and flexibility," he said. "The Tourer Weekender is the ideal lifestyle vehicle, especially if your trip includes an overnight stay. It expands our portfolio and take us into a new area of the market."
The Vivaro Tourer Elite is designed to take on executive shuttles such as those produced by VW and Mercedes, and while it uses the same 1.6 BiCDTi diesel in two guises as the Weekender, it's offered in L1 and L2 SWB and LWB forms.
Meanwhile the Combi Plus is designed to be a more upmarket type of crew van, with car-like spec on board to go with its expanded seating arrangement.
Would you fancy a fortnight in the Vivaro Weekender? Let us know in the comments..