New Volkswagen ID.3 SUV headlines brand's future plans
The new Volkswagen ID.3 SUV will be one of 10 new models on the way by 2026, and our exclusive image previews how it could look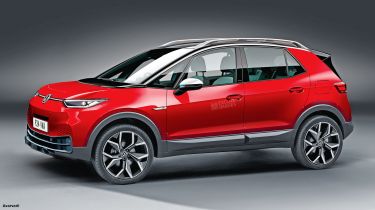 New Volkswagen boss Thomas Schäfer has outlined his vision for the firm after his first 100 days in the job, with a focus on becoming "a love brand again".
The VW exec also revealed at an event in Berlin that the company will launch 10 new models by 2026, including an SUV version of its ID.3 all-electric hatch, as previewed by our exclusive image. "We're working hard to develop an additional compact SUV based on the ID.3, so that we can also launch a VW product in this fast-growing vehicle segment," he said.
The new ID.3 SUV will share its interior and running gear with the hatchback, but offer a taller body inspired by the facelifted ID.3 that's due to go on sale next year. 
"We've listened very carefully to the ID.3 community, and we're bringing forward the facelift of our first MEB model to 2023," said Schäfer. "The new ID.3 is taking a noticeable leap forward in terms of quality, materials and system stability. A car that delivers what the VW brand promises."
Although the new ID.3's exterior isn't expected to look radically different from the current car's, the interior will receive a heavier makeover. The much-criticised infotainment system is likely to be updated with new software and a refreshed user interface, while the quality of plastics and other materials is also set for a major boost.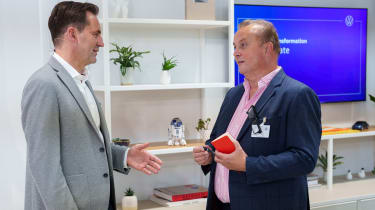 Expect the same battery options under the skin of the new ID.3 SUV as seen in the hatch; a choice of 45, 58 and 77kWh units will likely be available, offering a range of over 300 miles for the priciest versions. A hot GTX variant is also a possibility, with GTX models likely to spread across the entire ID range, including the ID.Buzz.
Schäfer also gave further hints about the smallest ID models, likely to be called ID.1 and ID.2. "Volkswagen will have the broadest e-portfolio in the automotive industry," he said. "From the entry-level e-car with a target price of under 25,000 Euros [about £21,700] to the ID.Buzz and the new flagship ID.Aero – we will have the right offer in every segment.
"By the way, we will bring the small e-car in two versions – as a small car and as a sporty crossover." Our exclusive images show what the firm's ID.2 could look like.
Schäfer also revealed that VW will trim its model line-up as it moves towards making only EVs in Europe by 2033 at the latest. "We want to make the Volkswagen brand shine again!" he told us. 
In his short time in the job, Schäfer says he's been working on three priorities: best brand, best team and best results, with a restructure of the board under way: "You can't change the world in 100 days, but you can point the way forward for Volkswagen, for the Brand Group and for the teams," he said.
"Will there be setbacks on our way to becoming a 'love brand'? Most certainly: we're living in challenging times full of unpredictability. Will we get distracted from our goal? Absolutely not. We're highly motivated, have an incredible amount of expertise in the company and we know what needs to be done."
Partnership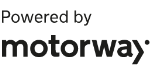 Need to sell your car?
Find your best offer from over 5,000+ dealers. It's that easy.
Click here for our review of the new Volkswagen ID. Buzz...