"The quality of future VWs will be key in the brand's battle against Chinese rivals"
Volkswagen is stepping up its speed of development to combat the threat from China, but editor-in-chief Steve Fowler thinks the brand can't afford to cut corners on quality again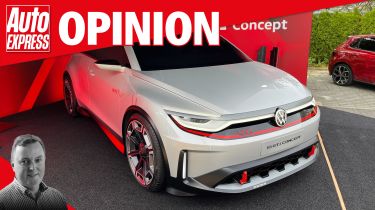 The car makers who bothered to show up at the Munich Motor Show fell into three camps: first, there were the German brands that had to be there; then there was Renault – boss Luca de Meo previously told me he made the decision in the hope the German brands would come to the following Paris show.
Finally, there were the Chinese brands, eager to reveal their European plans at a major motor show, with at least two of them – Leapmotor and Seres – confirming to Auto Express that they're coming to the UK.
The impact the Chinese are having on western brands is huge – not only in terms of the threat to their sales numbers, but also how they do business. Especially when it comes to the speed of development – an approach that clearly hasn't gone unnoticed at Volkswagen HQ.
It's something I brought up with Kai Grünitz, VW's Head of Technical Development. "Usually we have a 54-month development process," he told us. "And the Chinese competitors do it in 38 to 32 months.
"We decided on three pilot projects with a development process of about 36 months – one of them is the ID. 2. We started in late December with the first sketches and it'll come to the road late in 2025 or early in 2026."
The new processes don't come without risks, though. "It's doable," says Grünitz, "But you have to go a little bit more into risk because usually we define a new process standard. We try to develop new simulation tools and after checking simulations with the real world, we go on."
This new, more honest and, frankly, more likeable VW is open to learning from its mistakes, too. As Grünitz admitted, some recent models haven't been up to scratch – and they're quick to fix that. VW is now, apparently, a 'love brand' that's more in touch with its customers. But it's the quality of product, too, that'll be key in the battle against a growing number of increasingly impressive Chinese rivals.
Do you agree with Steve? Let us know in the comments section below...