Volkswagen Amarok Aventura arrives for 2018 with 254bhp
New range-topping Amarok gets a power boost, with the same engine heading to Highline models too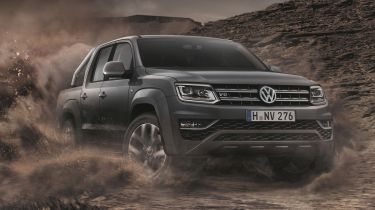 Volkswagen has confirmed that a new flagship version of its Amarok pick-up truck will arrive on sale later this year, boasting more power and a host of aggressive looking visual upgrades.
Called the Amarok Aventura, the new flagship truck was previewed at the Frankfurt Motor Show late last year, but has now been confirmed for production. It'll arrive in UK Volkswagen dealerships this June, with first deliveries pencilled in the calendar for September.
• Best pick-up trucks on sale 2018
Top of the bill for the Amarok Aventura is a more powerful 3.0-litre six-cylinder diesel engine, which now produces 254bhp and 580Nm of torque. An additional 14bhp is unlocked thanks to an overboost feature too, raising maximum power to 268bhp for brief bursts of acceleration. Power is sent to a 4MOTION all-wheel-drive system via an eight-speed automatic gearbox, equipped as standard.
The roof liner and pillar trims are both finished in black, while the Aventura gains a set of unique 20-inch alloy wheels finished in dark graphite. 'Peacock Green' bodywork paint is also bespoke for the Aventura, though other shades will be available. The exterior look is rounded off by daytime LED running lights. Inside, the cabin is upholstered with black Nappa leather as standard.
Volkswagen has yet to issue UK prices for the Amarok Aventura, but it'll be priced from €48,800 before VAT in Europe – about £42,000. The new, more powerful engine will be available on the Highline model too though, priced from the equivalent of £37,250. We'll have to wait for full UK prices to get a real sense of value, though. 
Read our round-up of the best pick-up trucks on sale in Britain here.