Deal of the day: Stay classy with a VW Golf for under £190 per month
VW's do-it-all family hatch is keenly priced on the leasing market right now, and our deal of the day for October 6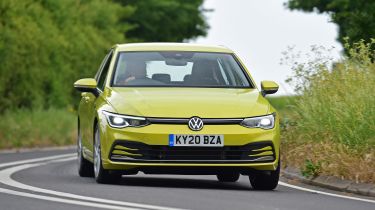 VW Golf Life for £189.94 per month
5,000-mile mileage limit
£2,189 in deposits and fees  
Few family cars can get close to the VW Golf's well-honed mix of practicality, comfort and technology – and right now, the German hatchback looks a proper bargain, costing less than many superminis with a deal we've uncovered at leasing.com.
Assuming you're willing to accept a modest mileage limit of 5,000 miles per year, you can get a nicely specced Golf for £190 per month, with an initial deposit of nine months (£2,189, including £240 of fees). And even if you want a bit of extra headroom on your mileage, bumping the limit up to 8,000 miles per year only increases the monthly outlay to £202 – still a very appealing rate for a £26,705 list-price model.
The deal is for a 1.5-litre 130PS (128bhp) petrol edition, complete with a six-speed manual gearbox and a 0-62mph time of 9.2 seconds. The Golf has a boot capacity of 381 litres, rising to 1,270 litres if you fold down the back seats – and as always with this model, it strikes a sound balance between load-lugging ability and cabin space for four grown-ups.
The trim level is the entry point to the Golf range, Life – but that doesn't mean you'll want for equipment. In fact there's a decent standard-kit list, including 16-inch alloy wheels, auto headlights and wipers, a 10.25-inch digital instrument panel, adaptive cruise control, front and rear parking sensors, and an eight-inch infotainment system complete with navigation and smartphone hookups for Android and Apple.
This contract-hire lease deal will, of course, require you to walk away after two years, with no opportunity to buy your car at the end of the lease or use any equity left in it to fund your deposit on its replacement. But it'll save you a packet over 24 months compared with VW's PCP offer, which does come with a £2,000 deposit contribution but costs £406 per month on the same vehicle and mileage terms – and that's with a heftier deposit of just over £4,000. That PCP deal comes with an optional final payment of £13,854, incidentally.
As always, this is a great deal on a new car that we've chosen independently and are happy to recommend. Terms and conditions will always apply, and deals are subject to availability and prices can always change.
Take a look at our previous Deal of the Day here...