"VW employees are the cleverest folk in the car business"
VW's employees are busier, cleverer and hungrier than we thought, says columnist Mike Rutherford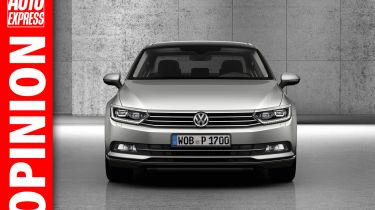 It has long been apparent that VW's work hard/play hard employees are busy, clever, hungry people. But it seems that they're even busier, cleverer and hungrier than we've been led to believe. In 2014, I rate them the busiest, cleverest and hungriest folk in the business of car design and building.
The all-new, eighth-generation Passat – available in January from £22k – illustrates my point. When the company gave me the keys to a fleet of them the other day, my immediate reaction was 'Wow, this car has grown'. On a stark, one-acre blob of tarmac and with no other vehicles to compare it with, I swore I was eyeing something a minimum of five metres long – giving it enough physical bulk to win a place in territory that's occupied by the 5.2m Mercedes S-Class.
But the truth is that at 'only' 4.77m, the Passat 8 isn't as long as the Passat 7. Yet its wheelbase and front passenger area are longer, elbow, shoulder and rear legroom is more generous and boot space is greater.
How come? Brilliant proportions and fine architectural work courtesy of the busy, clever, hungry employees at Volkswagen's design department which rarely, if ever, closes. How do I know this? Because Klaus Bischoff told me. Who is he? He's head of design for the Volkswagen brand, and daddy of the seemingly longer, but undoubtedly shorter Passat 8.
The Bisch and his design boys and girls are among the best in the world at tricking the eye into thinking certain models are bigger than their spec sheets prove they are. And he's almost as good with words as he is with a box of crayons. "It's a value car, not a prestige car, or a premium car," he says unapologetically.
"But because it's a Volkswagen it's not a normal car. It's honest. It has a design that's more than skin deep. With Passat 8 the buyer gets advanced technology in a designer suit."
Globally, these buyers will purchase 3,000 Passats a day, or one million annually. It has long been – and will continue to be – the best-seller for Volkswagen. This you can bet your life on because the busiest, cleverest, hungriest VW employees have decided this is the way it's going to be. And they're rarely, if ever, wrong.
Are VW employees the busiest, cleverest and hungriest folk in the car business? Let us know what you think in the comments below, or on Twitter or Facebook.