Secret Volkswagen Phaeton successor finally unveiled
It's been six years since the Phaeton went off sale - now VW reveals it had plans to keep going in the luxury saloon market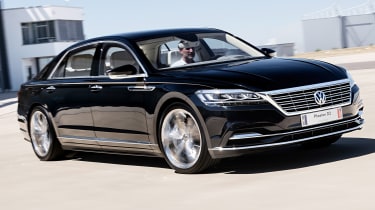 1/5
The Phaeton was a truly ambitious project from Volkswagen when it was conceived in the late nineties. Ferdinand Piech - the chairman of VW at the time who set the car's improbable development targets - was keen to show the firm could compete in the luxury car market and thus the Phaeton was launched in 2003. It went off sale in 2016, and now VW has finally revealed it was planning a successor for its Mercedes S-Class-rivalling saloon. 
It turns out Volkswagen was remarkably close to announcing a second-generation Phaeton. These new images show a working, running prototype that looks pretty much ready for production. Not only that, the Mk2 Phaeton (dubbed Phaeton D2) showcased plenty of VW's tech that eventually found its way into other production cars. 
Tomasz Bachorski, Head of Interior Design at Volkswagen said: "The fact that the Phaeton D2 was ahead of its time can be seen today in features such as the curved display, which was planned for the Phaeton successor and which was launched on the market in 2018 in the Touareg's Innovision Cockpit."
The exterior design of this concept car also has shades of the original Phaeton, with a thick C-pillar, simple front end design, 'Phaeton' lettering on the bootlid and plenty of chrome throughout. 
The original Phaeton's manufacturing process was to the highest standards of any Volkswagen to that point; specially imported wood lined the production floor, for example, and workers required gloves during assembly.
But it was the car's engine line-up that really stood out. Early on, there were two naturally aspirated petrol engines and a TDI, comprising a 3.2-litre V6, a twin-turbocharged 6.0-litre W12 and a 5.0-litre V10 TDI. Later we saw the inclusion of a 4.2-litre V8, followed by a 3.0-litre V6 TDI. All models came with an automatic gearbox, but the early V6-engined, front-wheel drive versions could also be had with a five-speed manual in some markets.
The Phaeton was updated numerous times throughout its life, most notably in 2011 when it received a comprehensive exterior facelift. Volkswagen's plan to release a follow-up model based on the D2 were stopped in favour of the German firm's electrification strategy. 
Now check out Porsche's secret concept cars here...