Volkswagen Transporter sets unofficial Nürburgring lap record for a van
The fastest van around the Nürburgring? That'll be the VW Transporter. It's just set a 9 minutes 58 seconds lap time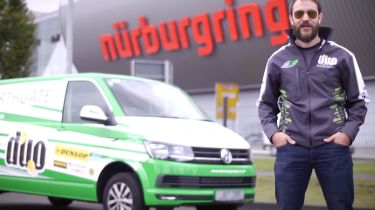 A Volkswagen Transporter has set an unofficial van lap record around the Nürburgring Nordschleife with a sub 10-minute lap time.
The time of 9 minutes 58 seconds may not sound that impressive but considering that the fastest hot hatch record around the 'Green Hell' is only 7.43.8 seconds, set by the Honda Civic Type R, it can been seen as quite the achievement for a commercial vehicle.
Behind the wheel of this record breaking lap was HMS Racing British Touring Car driver Rob Austin who managed to beat the current record held by TV presenter and professional motor racing driver Sabine Schmitz. She set a lap record of 10 minutes and 8 seconds, back in 2005 using a stripped out ford Transit.
• Fastest lap times around the Nürburgring
The Transporter was loaned by Northgate Vehicle Hire, the UK's largest van rental company, and was left with its standard 148bhp diesel engine with no modifications to prepare it for the track.
Northgate Vehicle Hire is a sponsor of Rob Austin's Dunlop MSA British Touring Car Championship team HMS Racing. A spokesman for the firm said: "This feat by a professional racing driver was an unusual way to showcase the quality and durability of one of our most popular vans, the Volkswagen Transporter.
The video below shows Rob's efforts over two days of testing as he attempts to crack the sub 10-minute time.