'Volvo is embarking on an ambitious push for zero fatalities in its cars'
Despite its pioneering safety history, Volvo is being more ambitious than ever before in its pursuit for safety, says John Mcllory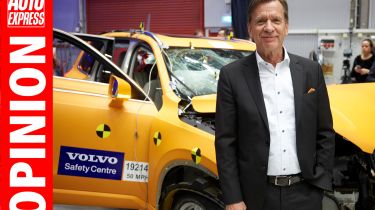 Volvo has long been known as a brand focused on road safety. But 60 years after the company invented the three-point safety belt – and then opened up the patent to help every car occupant – the Swedes are embarking on an even more ambitious push as they strive towards their goal of zero fatalities in Volvo cars by 2020.
It is hard to imagine how any other brand could have made the sort of announcements that Volvo boss Håkan Samuelsson spelt out at the company's press conference last week. Could you envisage Mercedes, Audi or BMW slapping a 112mph speed limit on every car they produce, for example? Or using geofencing technology to cut that maximum further around areas with more vulnerable pedestrians, such as schools?
• UK to introduce EU-mandated speed limiters to new cars from 2022
Volvo's move is as clever as it is well-intentioned. The company is forging a position as the 'thinking' alternative to the established German brands, and a curveball on safety – not least, the opening up of 60 years' worth of research on the subject – is every bit as useful in that respect as the bold jump towards electrification.
In wider terms, though, the ideas do look bold enough to kick-start a general conversation, within the car industry, on how much responsibility lies with the driver/owner and how much with the firm that supplied the vehicle. How many of us, as car buyers, have had any training on how to cope with a vehicle at 112mph, let alone 20mph beyond that point?
Much of the noise about safety during the past couple of years has been focused on autonomous cars that do all of the driving for us. But Volvo's initiative may end up showing the rest of the industry – and the customers who support it – that there are more attainable, affordable and practical ways of making everyone's journeys just that little bit safer.
Do you agree with John? Let us know what you think in the comments below...