Volvo and Isuzu enter commercial vehicle partnership
The two manufacturers will sign an agreement, which could see the Volvo-owned UD Trucks brand transferred to Isuzu Motors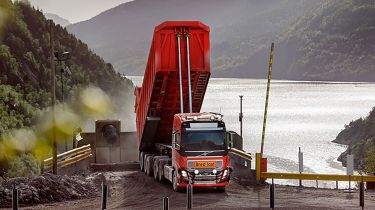 Volvo and Isuzu will sign an agreement in the middle of 2020, which could see the two manufacturers enter a heavy duty commercial vehicle partnership. The proposed merger would transfer the Volvo-owned HGV brand, UD Trucks, to Isuzu Motors in its entirety, to the benefit of increased production volumes and a broader market reach.
The UD Trucks brand had revenues totalling SEK 24 billion (£1.95 billion) at the end of 2018. However, it has struggled financially under Volvo's ownership, bearing only a "minimal impact" on the Swedish firm's operating income throughout 2018 and 2019.
Global orders across the UD Trucks portfolio decreased by 45 per cent during 2019, while the brand's operating income has showed a downward shift of 16 per cent since 2018. Volvo's share of the HGV market has also decreased from 16.2 per cent in the third quarter of 2018 to 15.2 per cent at the end of 2019.
Volvo forecasts that, once the agreement has been finalised and signed, it will increase its operating income by SEK 2 billion (£162 million) and boost its net cash position by SEK 22 billion ( £1.7 billion).
Full details on the proposed merger are yet to be confirmed. Thus far, the pair have stated they will form a technology partnership which will provide the best conditions for UD Trucks's expected growth – especially in the Japanese market. The pair also plan to explore further light- and medium-duty commercial vehicle projects.
Martin Lundstedt, President and CEO of the Volvo Group, said: "We see great potential to extend our cooperation within technology, sales and service as well as other areas going forward, for the benefit of our customers and business partners. Our UD Trucks colleagues have done a great job to improve performance in recent years and the alliance opens up a great opportunity to continue the successful journey."
What do you make of Volvo's proposed merger with Isuzu? Let us know in the comments section below…