Volvo targets range of 621 miles for EVs by 2030
Rapid-charging tech in Volvo models will be twice as fast by the middle of the decade, brand claims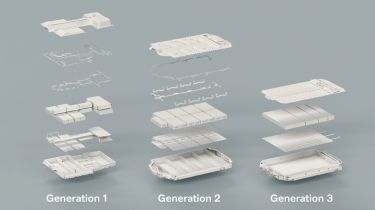 Volvo has announced it is partnering with Swedish battery manufacturer Northvolt to develop ultra energy-dense lithium-ion battery packs for its next generation of models. 
The improvements will be seen in what the company calls its 'second generation' of electric cars, which will open with the launch of the next XC90. It will be built on an entirely electric platform capable of bi-directional charging, allowing owners to return electricity to the grid.
By the middle of the 2020s, the company will begin the launch of its 'third-generation' electric vehicles, which will be built with full integration of the battery into the floor of the car, acting as a structure for improved chassis stiffness and weight saving, for further efficiency. 
The company also claims that it expects charging times to be cut in half by the middle of the decade as well, thanks to improving charging technology and battery thermal management. 
As an example, a Polestar 2 Long Range takes around 40 minutes to charge to 80 per cent at its maximum 150kW rate, so a 20-minute window to top up for long-range EVs with large batteries is likely the target for four years from now. 
Volvo's partnership with Northvolt has long-term goals; the company has announced it is targeting an improvement of 50 per cent in energy density for battery cells by the end of the decade. This would enable electric Volvo vehicles using Northvolt technology to travel up to 1,000km, or 621 miles, on a single charge.
Furthermore, the cells developed with Northvolt will be produced using 100 per cent renewable energy, while the partnership will extend to battery recycling operations, too. 
Volvo's Chief Technology Officer Henrik Green said, "By simplifying the design and integration of our battery cells, we can reduce weight and maximise space, allowing for considerable improvements in battery capacity, range and charging times."
Click here for our list of the best electric cars on sale right now...