Volvo to accept liability if autonomous car tech fails
Volvo boss makes landmark announcement that his company will accept full liability when car is in autonomous mode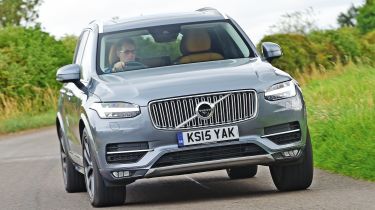 Volvo CEO Hakan Samuelsson has announced that his company will accept full liability if any of its cars crash while in full autonomous driving mode. Samuelsson has already signalled his intent that no individual will be killed or seriously injured in a Volvo by 2020, and this latest announcement paves the way for further development of autonomous driving technology.
One of the biggest stumbling blocks for the legal acceptance of autonomous driving tech is who will take the blame if the tech fails and the car is involved in a crash. Now Volvo has said that it will take full liability, other car makers are expected to follow suit.
Until now, many legislators around the world have been wary of allowing even testing of autonomous driving tech due to the uncertainty over who would be to blame, and could face prosecution and claims for damages, if the technology failed and the car crashed. Volvo's landmark announcement is expected to pave the way for some territories to allow testing of fully autonomous vehicles on its streets.
• The Google car is on its way
Samuelsson made his announcement in the US where he was calling for Federal guidelines for autonomous driving.
"The US risks losing its leading position due to the lack of Federal guidelines for the testing and certification of autonomous vehicles," said Samuelsson. "Europe has suffered to some extent by having a patchwork of rules and regulations. It would be a shame if the US took a similar path to Europe in this crucial area."
"The absence of one set of rules means car makers cannot conduct credible tests to develop cars that meet all the different guidelines of all 50 US states. If we are to ensure a smooth transition to autonomous mobility then together we must create the necessary framework that will support this."
Volvo has become a leader in autonomous technology with the new XC90 and forthcoming S90 benefitting from technology including adaptive cruise control with queue assist, and automatic braking with pedestrian and large animal detection.
Will Volvo's move to accept liability for accidents caused by its self-driving cars remove a big barrier facing the technology? Let us know in the comments...