Talk to your car with Volvo's new smartwatch tech
Swedish maker launches wearable voice control system enabling owners to adjust their car's functions remotely
Volvo has today announced a new wearable voice control system, enabling owners to control their car's functions from a Microsoft Band 2 smartwatch.
In recent times Volvo has begun – through its own admission – to focus closely on innovations "outside the traditional automotive arena". The news comes just weeks after Volvo announced its tie-up with global technology giant Microsoft.
• CES 2016: Consumer Electronics Show news
The new tech will allow drivers to send addresses to the car's navigation system, set the car's climate control and even lock the doors from the comfort of their own home. This kind of kit is already available on a range of BMW and Jaguar Land Rover products, but is a first for the Swedish car maker.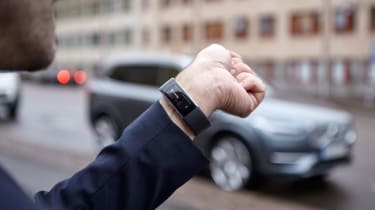 However, with Volvo's setup, you can 'talk' to your car, by dictating a range of commands via your watch. While this may sound a bit silly, it's very similar to Apple's Siri setup on the latest iPhones, and should be second nature to many smartphone users.
• Best in-car infotainment systems
Thomas Muller, Vice President Electrics/Electronics & E-Propulsion at Volvo Car Group, said: "Volvo is intent on making the car experience as easy and convenient as possible by utilising the latest technology in the most relevant and inspiring ways. With voice control we are only just beginning to scratch the surface of what is possible with digital assistant functionalities."
The system is available to all customers with the Volvo on Call functionality in their car, and will debut in the spring. Volvo on Call launched back in 2001 and is currently available in 21 global markets including the UK, providing safety, security and tracking services via an in-car SIM card.
What do you think of Volvo's new wearable technology? Would you talk to your car? Let us know in the comments below...