Volvo XC40 on the way
Volvo is keen to add a third, smaller member to its SUV line-up, based on the current V40 hatch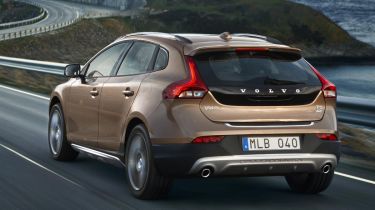 The trend for small SUVs is showing no sign of slowing down, and Volvo is the latest manufacturer to add one to its wish list. The newcomer would slot underneath the XC60 and XC90 (which is replaced later this year) in the line-up.
"It's absolutely an attractive segment," Hakan Samuelsson, Volvo's new CEO told us. "The V40 Cross Country (pictured above) is beginning to address that segment, but there is definitely space for a specific XC40."
He continued: "There's a definite move from estates to SUVs, especially with women, so we need to be in that segment. The XC models are perfectly aligned with our image of safety, good looking design and being user friendly."
If Volvo brings the XC40 to market in the next few years it will use the same underpinnings as the current V40, but Samuelsson is already planning ahead for the next-generation V40.
"Our new scalable SPA platform will underpin the new XC90, plus all new models with 60 and 70 in the name, but we'll need something different for the smaller V40," he explained. "We won't form a strategic partnership with any other manufacturer for this, but we could share components with our Chinese partner Geely for example. Shared platforms add lots of complexity, it's easier to do it in house."