Volvo's Life Paint helps cyclists stand out as the nights close in
Volvo's commitment to safety knows no bounds as it launches Life Paint – a unique reflective spray for cyclists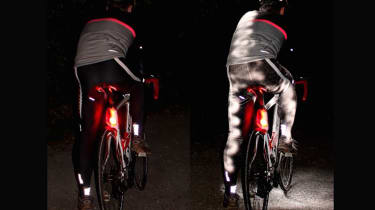 Volvo recently announced its goal that no-one would be killed in any of its new vehicles by the year 2020, but its latest product shows that the company is extending its safety expertise beyond the confines of its car range.
Life Paint is a fluorescent coating that, once sprayed on an object or item of clothing, glows when a car's headlights shine on it. The aim is to reduce road deaths, particularly for some of the most vulnerable road users – cyclists.
The paint can be sprayed on almost anything – from coats to backpacks and even on the bike itself. Volvo goes further and suggests that Life Paint can be applied to items like pushchairs and dog leads, making the whole family more safe and visible in the process. It's fully washable, too.
Life Paint was created by Swedish start-up Albedo100, and Volvo has an agreement with the company to distribute the product through some of its 122 UK dealers.
Life Paint adds to Volvo's growing roster of safety systems which include Intellisafe, combining pedestrian and cyclist detection with autonomous braking to ensure its cars are some of the safest around. Euro NCAP scores reflect this, with the latest XC90 achieving a perfect 100 per cent in the safety assist category.
After a successful pilot scheme earlier this year, Life Paint is now available free from selected Volvo dealers. With the clocks going back this weekend, the firm is hoping that lots of cyclists and pedestrians take it up on its offer and stay safe on those dark winter evenings.
Do you think Life Paint is a good idea? Let us know in the comments section below...